Introduction
North Carolina State Fireman's Association
Raleigh's Capital Hose Company running team on West Morgan Street, 1891. North Carolina State Archives photo.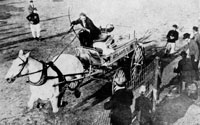 Atlantic Fire Company of New Bern in hose wagon contest, circa 1900. That year's tournament was held in Wilmington.
Wake Forest Fire Department #2 competing in a closing event of the 67th annual session of the North Carolina Volunteer Fireman's Association, July 1957. News & Observer photograph.