07/30/07 302 W, 2 I - + 20 - 13 Show Report
Baltimore, city of sirens. And expensive parking. And hideous traffic. Tenth or so year at the Expo for this tourist, and the second
sans
spouse. Always bundled with area sightseeing, it still feels more than ever like a business trip. Fewer attendees this year, perhaps. None of the specialty vendors of interest-- die-cast collectibles-- due to a drop in that industry. The show floor is best sampled in spurts, say 60 or 90 minutes at a pop.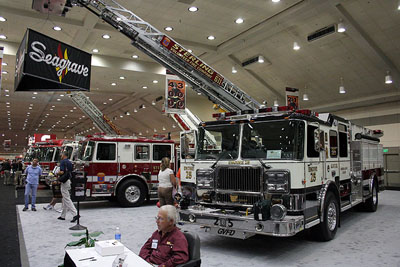 First, the big toys, the flashy, feature-packing pieces from Pierce, Seagrave, E-One, et al.
Touch, tug, and climb as desired. You won't break anything. Then, from rigs to booths. Then from flashier vendors, to the quieter ones. Every aspect of the fire service is represented here, from education to fitness to religious fellowship. There's also networking to be done, and looking for those you know, or whose names or departments you recognize. Saw a couple Raleigh guys, and a couple Swift Creek-ers. Most booths have goodies, candy or stickers or key rings or, even, freshly popped popcorn. The attendees are mostly male; the vendors are mixed, and with an obvious eye toward beauty as an exhibition aid.
Sunday is a parade of new and old rigs, on the east side of the Convention Center. It's also the flea market, with "firematic" items for sale. Books, videos, toys, figurines, old helmets, vintage equipment, etc. Also present are a number of vendors from the show, selling shirts, or patches, or collectibles, or small tools. Bought a $3.00 book, and a reproduction leather bucket. Black, with no adornments. It'll make a useful aid when presenting on the history of the fire department. Maybe even demo a bucket brigade, with everybody in a line. That'll be a hoot.
---
Been trying to go since they started the EXPO. Seems like other stuff always gets in the way…maybe next year.
DJ - 07/30/07 - 08:20