08/26/07 109 W, 1 I - + 19 - 17 Forest Hill Fire Department
This interesting and seemingly deactivated fire station was spotted on Germantown Road, about a mile south of Highway 52 in Winston-Salem. Forest Hill Volunteer Fire Department, and with what looked like rigs inside each bay. Upon inquiry at the convention, and closer inspection of the building, the station was closed in July of last year. FHFD operates in solely Stokes county, now. The building is apparently privately owned, and houses a half-dozen former FHFD rigs, including what looked like a pair of Mack B pumpers (!) and a World War II era-looking Willy's Jeep brush truck. Very cool.
More former firehouses
.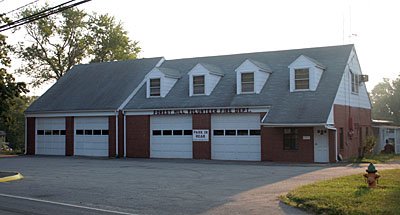 ---
funny, I found myself driving past that very station earlier today wondering if it was still in operation….
CFP 7021 (Email) - 08/26/07 - 19:03
Mike –
I learned after my grandfather passed away 10 yrs ago that he was a founding member of this FD. Wish I had know before…
McGraw - 08/26/07 - 20:48
More information about FHFD, found at http://cms.firehouse.com/dept/WinstonSal..

The Forest Hill Volunteer Fire Department was established in 1953 under the guidance of the Forest Hill Civic Club, Inc. Our last charter member, John Conrad died in March, 2007. John was a dedicated member for over ten years; he was our Chief Engineer on the B. F. Huntley Furniture Company Fire in Winston-Salem (1957). This was the largest fire in the history of Winston-Salem which burned over two city blocks. John was also our main pump operator on the Rural Hall Hotel Fire (1959). Our new Germanton Substation is almost completed and will be put into service this summer. This project was made possible through a limited operational agreement with the South Stokes Volunteer Fire Department. This Station will serve the southern part of the South Stokes District and will be availble for mutual aid, if needed, in southern parts of Stokes County and in northern parts of Forsyth County. All of this was made possible by the hard work of Forsyth County Fire Administrator F. Reed Jarvis and Assistant County Manager Ron Graham. We appreciate the votes and support of the Forsyth County Board of Commissioners, the Stokes County Board of Commissioners and the Stokes County Board of Fire Commissioners. Our Winston-Salem Station will be maintained by the Forest Hill Civic Club as an Historical Fire Museum. Our vintage fire apparatus and fire equipment will be on display at this location including two 1953 Mack Pumpers, 1972 Howe Pumper, 1967 Mack Pumper, 1962 Willys Jeep and 1973 Squad Vehicle. All Forest Hill members as of June 30, 2006 will remain at their current rank in perpetuity.

Info on the Civic Club, http://www.geocities.com/hotsprings/fall..
Legeros - 08/27/07 - 07:46
Mike i was looking thru your past firehouse site and came across two items. The city of WS fire station at 100 Arbor rd is still in use, It is now the home of Rescue Company 1 along with a spare engine. Also in the county triangle Fire Department is no more . The building is in the process of being re-done for an EMS base for Forsyth County EMS Just I thought that I would pass this along
C Simmons (Email) - 08/28/07 - 17:49
In its last years, the department was in an interesting position. As the city continued to annex more and more of the county, the station ended up within the city limits…despite remaining a "county" fire station. Ultimately, Forest Hill's district was compressed down to a small area of about a square mile, located several miles away from the fire station. At times, there were calls right at the station, or within sight (100') on which city units were dispatched, and Forest Hill was ignored.

The building remains in the ownership of the Forest Hills Civic Club. A new station has been built in Stokes County, and the department will operate out of it.

The apparatus that remain behind include some interesting historical gems, all in excellent condition. Twin 1952 Model 405A hard-top Mack 500 GPM engines, quite possibly the only two remaining of their kind, and a Willys open-top jeep are among some of the finer pieces in this collection.
J.T. (Email) - 12/14/07 - 22:24
Belated postscript. Found this info in the FN archives: http://www.carolinasfirepage.com/firenew..
Legeros - 06/01/08 - 11:37
The article listed in Carolina Firespage was not authorized by the department. (It was released prematurely by a member without permission). Nevertheless, it is accurate.

The new station was subsequently constructed in Stokes, and is operational. The older apparatus were left with the original building. With support, the goal would be to convert the former station into a fire museum.

The fact that the all-volunteer company held an ISO 4 rating is impressive. It is especially impressive given that the fire station was actually located several miles from the district. In the final years (during which the most recent ISO study was conducted), if the firehouse had caught on fire, the fire company housed within it would not have been dispatched!!! This is because the fire station was well within the city, while the fire district which the station actually protected was situated several miles away.
Ace (Email) - 06/21/08 - 23:17