11/30/07 186 W, 1 I - + 15 - 11 Real Heat: Race and Gender in the Urban Fire Service
Book review. Carol Chethovich's
Real Heat: Race and Gender in the Urban Fire Service
is a fascinating
ethnography
of an urban fire department
1
in the early 1990s. The author, who based the book on her dissertation, follows the careers of Oakland Fire Department recruits over the course of their 18 month probations. She recounts their many challenges and not only related to race and gender, but also the physical and social demands that they face. Her comparison of the fire service to other professions provides some intriguing insights. She relates the traditional treatment of "probies," for example, to the apprenticeship process in other jobs. One of her more compelling conclusions is that the experience of a recruit's first station assignment can determine the success of that firefighter's career. Though not light reading, it's not terribly heavy, either. Tons of interesting end notes, too. Definitely recommended reading, and perhaps mandatory for anyone entering the profession.
Bought my copy on Amazon.com
.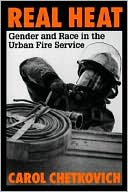 1
How big of an urban fire department? Oakland had 23 stations with 23 engines, 7 ladders, and 466 uniformed members in 1992.
---