12/12/07 132 W, 1 I - + 11 - 9 Yesterday's Fire
Engine 8 reported a working fire on arrival at
1508 Collegeview Avenue
. Two-story, six-unit,
brick apartment building
with fully-involved first-floor unit on right side. Fire was venting out the rear door and window of apartment, blocking the rear egress of the ground floor and second floor apartments. Three occupants jumped from the second floor. One transported with minor injuries. One engine and one ladder special-called for relief. Five families displaced. Alarm time approximately 1:01 p.m. Marked under control at 1:26 p.m. Engine 8 cleared approximately 5:26 p.m. Units included E8, E20, E5 (RIT), E1 (safety), E27 (relief), L20, L1 (relief), R14, B3 (command), B4, C5, C2, C10, C198, FC1, EMS1, EMS13, EMS31, EMS T1, EMS D1, EMS C200. Details and photo below from Lee Wilson. Photos posted.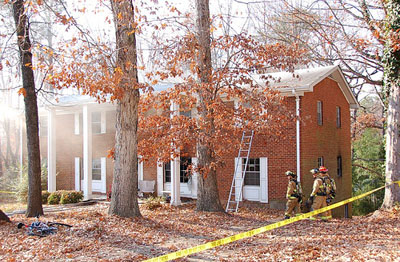 ---
Updated with a little more info.
Legeros - 12/13/07 - 07:57