01/06/08 102 W, 1 I - + 15 - 12 This Morning's Fire
Commercial structure at
3008 Highway 70 west
near the county line. Adult entertainment establishment, not occupied. Single-story, 3,859 square-feet, built 1975. Heavy smoke on arrival of Garner Fire Department. Eastern Wake also initially dispatched. Defensive operations after about 20 minutes. Garner Ladder 1 operating. Clayton, Wilson Mills, Archer's Lodge, and maybe one other as mutual aid, for water shuttle from hydrant about a quarter-mile east on Highway 70. Garner EMS and Wake EMS on scene. Alarm time 6:28 p.m. Controlled within two hours. One injury to firefighter, slight burn on foot.
Latter reported by WRAL
. Pictures and photography notes forthcoming.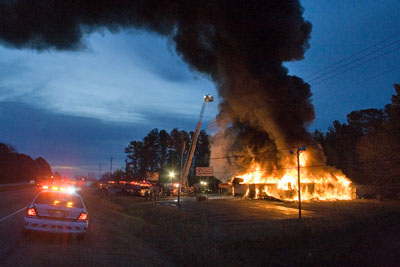 ---
Who's yellow rescue truck?
DJ (Email) - 01/06/08 - 20:26
Garner EMS old 881. The current 881 is in the shop.
Legeros - 01/06/08 - 20:47
Guess I need to get out more…
DJ (Email) - 01/06/08 - 21:00
Thats Garner's back up rescue truck 882.
Mike - 01/06/08 - 21:17
I have noticed several pictures with fire personnel standing between the tanker and the drop tank. I was taught when I was a volunteer (in another NC county) to step up (make sure the driver sees you) on the tailboard when the truck got close enough or stand out of the way while backing up when using the water tubes for safety reasons if something went wrong with the truck. Please don't get caught in that spot. Just a thought to keep us safe. Thanks!
fire1983 - 01/06/08 - 21:31
What's the run down on the number of trucks that responded?
car2550 - 01/06/08 - 21:51
Until someone consults CAD, this was the likely line-up for the first 90 or some minutes of the incident: Garner E1, E5 (P5?), L1, R1, Tanker 8, Car 1, Car 2, Car _, etc., Eastern Wake E1 (P1?), Tanker 3, Clayton E2, E3, E4, Car 1, Car _, Archer Lodge Tanker 1, Wilson's Mills Tanker 1, Car 1, GEMS 81, 82, 882, EMS 1, D1, T1.
Legeros - 01/06/08 - 22:10
Anyone know if any smooth bores were put in service?
Silver - 01/06/08 - 23:30
I made an earlier comment to myself when looking at the pictures… from those alone it does not appear so. It also looks as if they had water supply issues as there were drop tanks on the ground. It also appears that they may have put some sort of a relay operation into place as well. I would be very interested to learn from what hoses were placed where and how the water supply operation went. It looks like it could be a great learning tool.
CFP 7021 (Email) - 01/06/08 - 23:43
It was Clayton Car 3 and Eastern Wake PUMPER One
Car 9 - 01/06/08 - 23:53
Select photos also posted on firehouse.com: http://cms.firehouse.com/web/online/Phot..
Legeros - 01/11/08 - 19:58