01/23/08 213 W, 1 I - + 15 - 10 27-Year Fire Department Veteran Herman Jones Dies At the Age Of 58
News release. The City of Raleigh Fire Department lost one of its own on Tuesday, January 22. Lt. Herman S. Jones, a 27-year veteran of the Raleigh Fire Department, died after suffering an apparent heart attack. Lt. Jones was on duty Friday, January 18 at Fire Station 10 when he began to experience chest pains. He was transported to Wake Medical Center and then to UNC Hospital.
Lt. Jones began his service with the Raleigh Fire Department on May 5, 1980 and was promoted to the rank of Lieutenant on June 16, 2001.
Funeral arrangements will be handled by Haywood Funeral Home, 2415 South Wilmington Street. A memorial service will be held on Saturday, January 26 at Juniper Level Baptist Church,
9104 Sauls Road in Raleigh
. A visitation will begin at 1 p.m. on Saturday and the service will be at 2 p.m. The burial will follow in the church cemetery.
Lt. Jones is the third firefighter to die while on duty. On April 20, 1965, Lt. Paul Mimms, 41, died of an apparent heart attack while operating a pumper at a structure fire. On March 10, 1956, Lt. Vernon Smith, 44, died from injuries suffered after his pumper overturned on November 14, 1952.
For more information contact Asst. Chief Tommie Styons, 919-831-6392.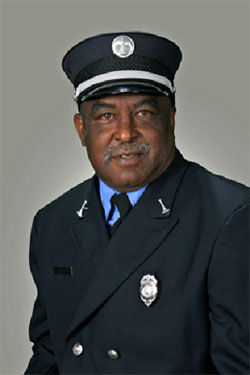 ---
Our #1 killer claims another Brother; R.I.P. "Herm".....
Silver - 01/23/08 - 18:18
All of the members of Raleigh Fire Department will remain in my thoughts and prayers. Stay strong
Luke - 01/23/08 - 18:57
Rest in peace – from you friends and brothers at RFD Station #8A (A.Rich, S.White, G.Buxton, B.Page, K.English)
RFD Station #8A - 01/23/08 - 20:05
Rest In Peace friend from Dekalb County Fire Rescue …..
Jim Kay - 01/23/08 - 21:20
Rest in Peace. From your Brothers on the North side.
NH Station #1A - 01/23/08 - 23:24
Apex has your family and brother firefighters in our thoughts. God Bless you
Apex Batt Chief - 01/23/08 - 23:52
May he rest in peace.
Jay (Email) (Web Site) - 01/24/08 - 09:51
May he rest in peace, stay strong RFD, your in our thoughts and prayers. -Your Brothers at the Falls
FFD21 - 01/25/08 - 08:27
Rest in Peace Brother – Williamsport Bureau of Fire (PA) Local 736.
Kevin Breen (Email) - 01/25/08 - 13:17
To the Jones family from my family may we Honor Brother Herman, for he gave the ultimate sacrifice to the fire service and we will rejoice in his coming home to the "LORD". To the MEN and Women of the Raleigh Fire Department our Deepest Sympathy to the Lost of of OUR BROTHER HERMAN. May "GOD" stay in our hearts at this time of sorrow.
JJ - 01/25/08 - 20:08
Rest in Peace Brother, Our thoughts and prayers will be with Lt. Jones' family and the RFD family.
-DHFD C-shift-
LtEng3 - 01/25/08 - 22:45
Rest in Peace Brother Jones! The thoughts and prayers of Charlotte E11 are with the family of Lt. Jones and the Brothers of the Raleigh FD.
Rides An Engine - 01/27/08 - 10:48
Rest in Peace. Our thoughts and prayers are with the family now and always.
Sta. 14 - 01/27/08 - 11:02
Rest in Peace Brother. Keep the faith RFD, our thoughts and prayers are with the family of Brother Jones and our brothers at RFD. – DHFD A-Shift
DHFDeng1 - 01/27/08 - 13:32
Rest in Peace. Our thoughts and our prayers are with your family and the Raleigh Fire Department.
-Durham Highway Fire Department "B" Shift
DHFD - 01/27/08 - 16:32
Rest in peace Lt. all of our thoughts and prayers are with the family of Brother Jones and the family of RFD.
DHFDVollies - 01/27/08 - 16:39