01/24/08 124 W, 1 I - + 16 - 15 State College Student Discovers Raleigh's Old Fire Bell
Here's a great story
that appeared in the North Carolina State University newspaper
Technician
, about Matt Robbins and his discovery of the city's old fire alarm bell atop Withers Hall.
See aerial view of building and cupola
. The bell was cast in 1870 and was originally housed in a clock tower at Metropolitan Hall. It served as a clock bell, and also an alarm to summon the city's volunteer firefighters. It was moved to Station 1 in 1914, and removed from there in 1938. A decade later, it ended up atop a building at the college. Great story, and even includes an appearance by Yours Truly.
More information on the early fire alarm system
.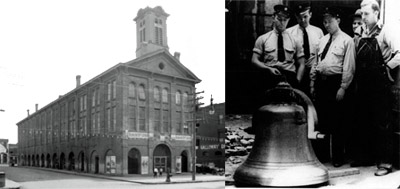 ---
Here is a better aerial pic.
http://maps.live.com/default.aspx?v=2&cp..
2redline (Email) - 01/24/08 - 23:11