02/06/08 101 W, 1 I - + 8 - 9 More Golden Oldies
Here's another a great picture that recently surfaced, showing driver training at the Fairgrounds in the 1970s. This is the first color photo seen of one of the city's American LaFrance 700 Series pumpers. Raleigh had four of them, two in 1951 and two in 1953. They were delivered by rail, as the story goes. This particular pumper is lettered C, which was the designation for reserve engines. It is probably a 1951 model, and would have served as Engine 3, Engine 8, and Engine 14.
See more of these photos
, but don't cut yourself on those sharp hairstyles.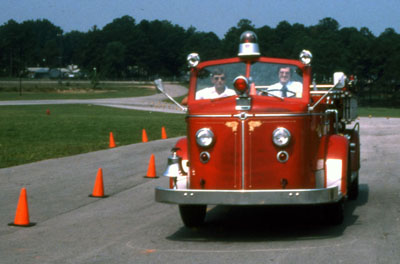 ---
Great pics Mike!!! Keep them coming!
Travis (Email) - 02/06/08 - 21:41
I remember seeing them out there a couple of times. One time they had the 1950 Mack along with one of the 900 series ALFs.

We also used to do driver training out at RDU. The state OEMS offered an EVOC course that we helped with out on the closed runway. There may be some pics of that somewhere, possibly in any Cary News archives.
DJ (Email) - 02/06/08 - 22:29