02/10/08 73 W, 1 I - + 11 - 16 This Evening's Fire
Apartment fire at
7013 Woodbend Drive.
Two-story, wood-frame, 10,672 square-foot apartment building. Engine 4 on scene with a major working fire. Battalion 1 in command. Ladder 16 and Ladder 11 positioned, but not needed. Interior attack contains and controls. Alarm time about 9:55 p.m. Units included E4, E9, E15, E19, E11, E18, L16, L11, R19, R14, B1, B4, C5, A8, C20, C2, EMS 16, EMS D1, EMS T1.
See preliminary photos
.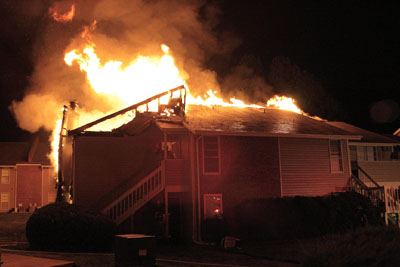 ---
...command terminated by Engine 22 at 7:52 a.m. the next morning. Today's News & Observer reports two units with major damage, and two with minor damage. Fire controlled within 20 minutes. No injuries.
Legeros - 02/10/08 - 08:53
EMS121 was also there.
Defib - 02/10/08 - 16:09