03/17/08 169 W, 2 I - + 11 - 14 Raleigh's Original Tiller Found and For Sale
The city's original tiller has surfaced in downtown Smithfield. Found by fellow fire photographer Carter Rabil, it's sitting in an open lot behind Boykin Motors at
650 S. Brightleaf Boulevard
. Less than hour's drive from Raleigh, even on a Monday after work! The 1939/1916 American LaFrance served as Truck 1 until 1958, then as a reserve ladder for several years. It may also have seen service as Truck 6. The cab is a 500 Series, the ladder is a Type 17.
The wooden, two-section, 75-foot ladder was spring-raised for the initial elevation, then hand-cranked the rest of the way. Last seen sitting behind Station 8 in the early 1980s, the truck was sold as surplus and sat outside in Apex for the next 20 years. It was recently relocated to Johnston County, and will be auctioned on the second Saturday in April. See
more photos of the apparatus
. Or watch some
old film footage
showing the truck in action. Pictures forthcoming from this afternoon's visit.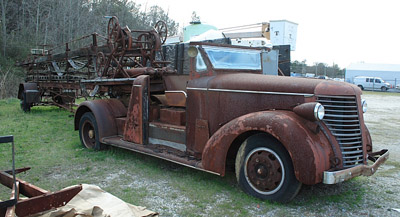 ---
Random notes about this truck…

Personnel periodically refinished the wooden ladders. They'd scrape off the old varnish using broken glass.

The ladders were stored in a single rack, which rendered the tiller seat that much higher.

The tiller seat swung to the side, and the steering wheel was removed to raise the ladder.

The steering column was also removed, when the ground ladders were removed.

The ladder was raised by pressing a pedal, which released a lock, which caused a spring to raise the ladder by 30 or degrees.

The remaining elevation was achieved by hand-crank. Two additional cranks extended or retracted the second section.

A fourth crank on the turnable rotated the ladder.

The truck was stored at Station 6 for a period of time. To accommodate the length, a window was removed and a metal shell was added to protect the ladder that poked out.
Legeros - 03/18/08 - 21:09
Broken glass? Now that's funny!!
Silver - 03/19/08 - 12:52
whats so funy about that Silver? We've done the same to rehab axe handles.
7driver - 03/21/08 - 10:41
Really Ron? I would've thought in todays time, there's another way to do that versus using broken glass.
Silver - 03/21/08 - 16:01
Hi, I found you web site through the article in the SPAAMFAA publication Silver Trumpet. I work for the Reno (NV) FD and we are restoring our 1917 ALF Type 17-6 85' tillered aerial ladder. I would like to talk to whoever bought this rig and see what their plans for it are. It would be good to be able to talk to someone who also is working on a rig like ours. Our web site is below if you are interested.
http://www.iaff731.com/History/Apparatus..
Jon Wagner (Email) - 05/01/08 - 13:17