09/16/08 148 W, 1 I - + 11 - 10 Dear Adobe
Here's a compelling concept in consumer feedback.
DearAdobe.com
. Type a gripe or some praise, and, bang, it's right there. The entire purpose of the site is for compiling quick and unfiltered feedback on Adobe software products.
This blog posting explains the concept
. The site was created by a couple people unaffiliated with Adobe. Now imagine extending that concept to other types of products or services. Say, public services? Don't know if it would work on a local level, but perhaps regional or higher. And there's no telling if those delivering public services would pay attention. That is, if change would be effected using such a tool. Stakeholders in school systems would certainly love it. Such animals probably exist. Public safety? Probably two types of comments would happen, outsider praise (citizens) and insider criticism (responders). Cool concept, for sure.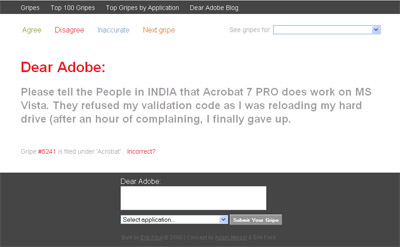 ---