10/02/08 117 W, 1 I - + 8 - 14 Yesterday's Haz-Mat / Globe Road
Chemical spill at industrial facility at 10411 Globe Road. Cary Engine 1 first on scene1. Haze reported visible in air and nearby buildings were evacuated. Entry team found 55 gallon drum of muriatic acid with anestimated 30 to 45 gallons spilled. Crews contained spill using lime. Alarm time about 11:10 a.m. Companies started clearing about 3:00 p.m. Units included Cary E1, B2, Raleigh B4, HM8, HM15, HM2, L22, L20, Decon 1, C72, C5, FC1, Cary EMS D5, Six Forks EMS 123, Wake EMS 32, T1. "A" shift working. See photos by Legeros.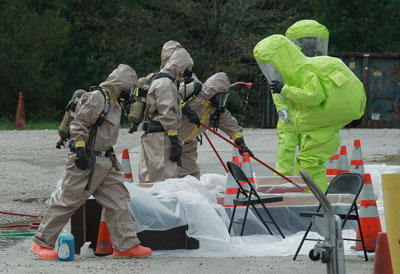 1Address is within Cary municipal limits, but postal address is Morrisville. Here's a GIS map showing Cary's city limits.
---