12/02/08 312 W, 1 I - + 9 - 11 Telecommunicator Consoles
Speaking of multiple monitors, here's how the telecommunicator consoles at the Raleigh-Wake Emergency Communications Center are arranged. Seven, count 'em seven monitors are utilized for some consoles! See them in operation.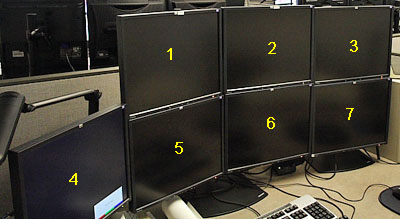 Here's what's what:
Advance Tactical Mapping (ATM), which combines Graphic Information System (GIS), Global Positioning System (GPS), and Automatic Vehicle Locator (AVL) technologies. It's interfaced with the computer-aided dispatch (CAD) system, and is linked to the in-vehicle navigation of responding units. The ATM shows all incidents for the agency that the telecommunicator is logged into.

CAD unit status monitor, which shows all active units whether in service, out of service, or assigned to an incident. Law enforcement units appear only when officers log into their mobile terminals. Fire and EMS units are displayed 24/7, regardless of their mobile terminal or DEK box status.

Phone map, which is interfaced with the telephone system and displays the location of the caller. If zoomed out, shows all active callers. Also shows wireless callers and the cell tower they are utilizing.

Radio console, which controls the VHF, UHF, and 800 MHz trunking, patching, paging, and multi-channel simultaneous selection. It is interfaced with CAD and Locution. Not present on non-radio (call taker) consoles.

CAD data entry, for call takers. Also shows dispatch information, and incident updates.

CAD incident status monitor, shows all active incidents which are categorized as Pending (calls waiting to be dispatched), Dispatched, Stacked (low priority calls assigned to a law officer's mobile terminal when the officer is already dispatched to another incident), and Scheduled (held calls that appear at appointed times, such as funeral escorts).

911 telephone system, shows Automatic Number Identification (ANI) and Automatic Location Identification (ALI). It is interfaced with TDD (Telecommunications Device for the Deaf) and has one-touch transfers. Interfaced with the phone map system and CAD.
---