07/04/09 156 W, 2 I - + 19 - 9 Ocracoke Ferry Terminal Explosion
WRAL has
posted the first reader photos
of this morning's fatal explosion of a fireworks truck
at
near the ferry terminal on Oracoke island. They are reporting one fatality and four critical injuries, with three air ambulances from Greenville and Dare County transporting victims. Ferry service to the island was temporarily halted, and Highway 12 has reopened, they report. The truck was reportedly parked and being unloaded when the explosion occurred. WRAL reader Joseph Chestnut took the below photo at 9 a.m., while working an amusement ride.

Joseph Chestnut/WRAL photo

Additional details have been reported, and additional photos posted, of the explosion. The Virginia-Pilot has posted quite a bit of information, including a half-dozen photos from later in the day. They include a list of responding agencies, including Ocracoke Fire, Hatteras Fire, Frisco Fire, Buxton Fire, Hatteras Island Rescue, Dare EMS, and Hyde EMS.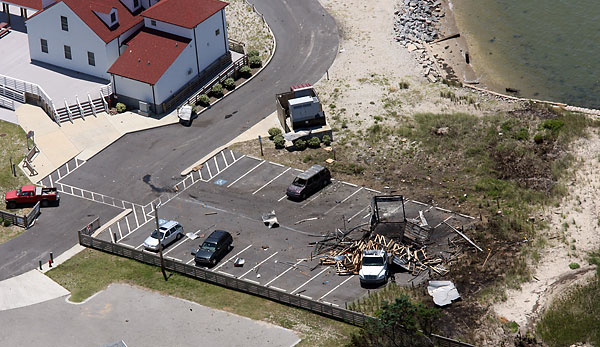 Steve Earley/Virginian-Pilot photo
---