07/26/09 156 W, 1 I - + 14 - 10 Former Firehouses of Washington, DC
Saturday was spent in the nation's capitol, with station hunting in the morning. Nine former houses of DCFD were found and photographed. They date from 1870 to 1908. Below is the old "ten house" at 1341 Maryland Avenue, which opened in 1895. Look closely and you'll see a person apparently asleep on the apron. Nothing like local color. And remind me to tell about driving in DC. How many one-way streets does one city need?
We'll have the photos processed and posted in a number of days. Baltimore and Richmond are queued ahead in the line. Station hunting in Richmond resumes Monday, for that matter. Research on the DCFD historic and former houses was conducted using this Watch Desk thread. Thanks so much to those who responded. Expect a return visit, maybe next year. There are also some 17 active stations of an older age to shoot.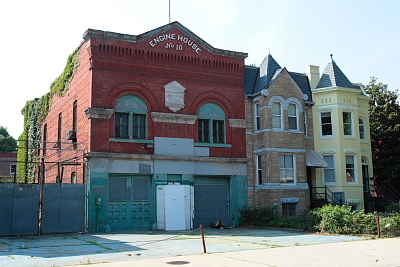 ---
Welcome to the DC metro area, it's all one way streets here it seems. You should try and swing over to PG county and photograph some the stations here. Couple of old ones all over the place.
[PGTruckie] - 07/26/09 - 02:24
mike, if you have a VHF pager for the county, if you set it on "B" you will be able to hear the DCFD dispatch channel.
DHFD416 - 07/26/09 - 09:38
Now that's a cool station! Is it butted up against a residence or is it all the firehouse? Looks like the bay portion was an add-on, assuming it's all one.
Neato - 07/26/09 - 10:04