09/18/09 172 W, 1 I - + 7 - 13 Two-Stepping
Since it's Friday, let's extol the virtues of a new country bar in Wake Forest. Called Crossroads Entertainment, they're located at 413 Brooks Street. They've been open about a month, and they're the latest, greatest place for two-stepping in the Triangle. Built inside a renovated strip mall, in the old Winn Dixie, the place is big, clean, and well-attended on the weekends. New furniture, nice decor. Really a nice-looking place, and non-smoking at that!
The main room has a generous-sized dance floor, and a good sound system. And it's attracting all the country dancing regulars who you'll recognize from T.J.'s or the old Longbranch. Swinging, waltzing, line-dancing, it's all there. The club has two smaller rooms, one of which is a sports bar. Friendly staff and friendly faces. They have a web site on MySpace with a their calendar and other details. Look for "Boots" Blogger on the odd Tuesday or Friday night. He'll be the one wearing a Hawaiian shirt.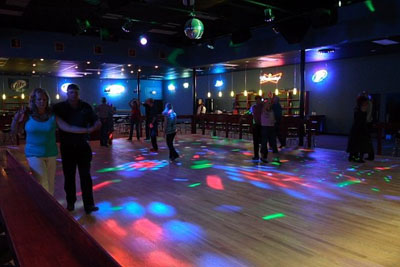 ---