09/19/09 266 W, 2 I - + 15 - 6 Below the Fold
Let's talk usability. Raise your hand if you've seen a web site that requires scrolling down to see the latest updates. Instead of the latest, greatest, newest content positioned at the top of the page, it's located farther or maybe further down. Maybe the top of the page has big banners, or splashy graphics, or unchanging "about this web site" information. This type of page design is challenging for users. If they don't scroll down, to see what has changed, they might think the site is inactive. And thus stop visiting. Plus, that most valuable of real estate-- the top of the site-- is largely wasted. Once you've seen the banner, or read the introduction, it's no longer useful for repeat visitors.
The Apex Fire Department web site has been modified to address this issue. Here's the "before" version, as shown on Mr. Blogger's desktop resolution of 1400x900. Run totals are at the top of the page. Big honkin' table of numbers. Below that are photo updates, and then the latest announcements. Chances are, most users are scrolling down, past the run numbers, to see what's new on the site. What new photos have been posted, what new announcements are listed.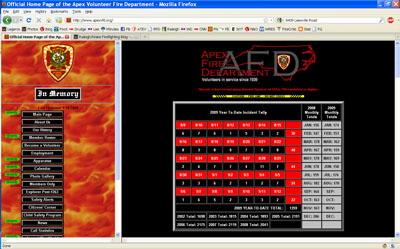 Here's the "after" version, with the run totals moved to the bottom of the page. Photo updates are at the top of the page. Below them, "below the fold" alas, are the latest announcements. Simple fix. Great improvement!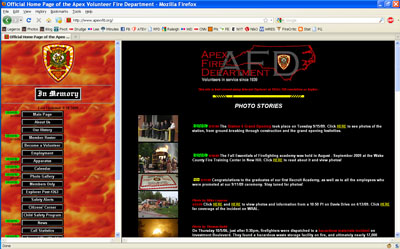 ---
Hey Mike! Thanks as always for the input and feedback. I used to be a computer programmer but, did mostly behind-the-scenes stuff so I certainly cannot make any claims to being a "web site usability" expert. The AFD web site started out 8 years ago as a little side project for me to learn HTML, I had no idea it would end up being an almost-daily labor of love and that I would be posting as many pictures, etc. as I have. The site is long overdue for a re-design, which I will be working on in my spare time. At the risk of opening a pandora's box, I would request that if anyone has other feedback they are willing to share on the site – good, bad, or indifferent – bring it on! :-)
NCFirewolf (Email) (Web Site) - 09/19/09 - 10:46
The beauty of web page updates is that they're usually easy to revert. If you learn that your users need the run totals back at the top, no problem. Or maybe something else at the top is even more valuable to them.

Mind you, reading the minds of users is its own challenge. Web site users rarely send unsolicited feedback on design issues, in my experience. Formal user testing is best, but who has time or resources for that?

One thing I do is discretely watch the folks at fire stations, when they're viewing my sites. I can learn a lot and it always challenges my assumptions of how people use and navigate my sites.

Fire web sites often are labors of love, as web resources are probably usually a lower priority. And they can get developed in vacuums. Sites are designed a certain way because the web person thinks it's coll, versus because users need fast and easy access to something.
Legeros - 09/19/09 - 11:06
I thank all of you who keep up websites related to the service. Just being able to look out there and get the information I want and much more is really great. Thank you Sue-Lynn and thanks Mike and others.
H2O - 09/19/09 - 16:28