09/27/09 216 W, 1 I - + 16 - 8 Let the Games Begin!
Er, that is, let the viewing of the games begin! Photos have been posted of Warren County Fireman's Day, held yesterday in Warrenton. Was the twenty-sixth year for the event, which drew departments from near and far. Sharpsburg from Nash County was likely the longest haul. The parade on Main Street started at 11:00 p.m. Before and after, the trucks were judged and in several categories. The lone antique was the town's 1938 Ford/Oren pumper. Next stop was the Warren County Fairgrounds, just outside town. There the judging continued, and firefighters, friends, and families settled in for a fun day of games.
The tournament started about 1:30 p.m. Five events, each with multiple teams. First was fastest dressing, complete with clouds of lubricating baby powder. Second was the hose team. Six men, three sections, one nozzle. Third was the bucket brigade. Muddy event, that one. Fourth involved two blinded hose teams trying to fill kiddie pools, with verbal orders from guys standing said pools. Wet one, there. Fifth was the familiar tug of war, with a beer key suspended on wire. Plus a contest for junior firefighters called "one man hose company." Great fun, great time. View the photos. See you next year.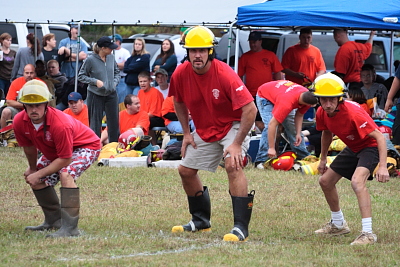 ---
glad to see its still going on!! in my earlier days it was probably the most anticipated event of the year,, got to talk a lot of smack prior to and after the events!! just sad to see lack of participation/representation from the other depts in the county
JDH - 09/28/09 - 09:51
that dude on the right is rrrreeady!
Barney Fife - 09/30/09 - 09:21
This is definitely an event that has been lost in time locally, maybe due to our urbanization and the increasing number of paid FFs; or just plain ole apathy and community decentralization. Many folks used to flock to Warrenton for this day and the associated competitions in years past. There are a lot of local "digital age" FFs who are completely unaware that these events used to take place locally too. Tradition (or even "Paradise") lost… Like my daddy used to say, "Y'all don't forget where you come from…" Stay safe!
A.C. Rich - 10/03/09 - 10:55
Here's a nice article from VANCNews listing all the winners of the event: http://www.vancnews.com/articles/2009/10..
Legeros - 10/04/09 - 10:54