09/29/09 141 W, 2 I - + 16 - 11 Photography Tip #549 (Updated)
The objective? Shoot the nearly completed green roof at Station 9. The challenge? Getting high, and in a vertical and not vegetative sense. The solution? Proceed to the sidewalk that's beside and slightly above the station. Take one tripod and extend to maximum height. Switch your camera to timer mode and manual focus. Set the latter for infinity and beyond. Buzz Lightyear voice optional. Mount camera on tripod. Activate shutter. As timer starts beeping, raise tripod above head. Hold very steady. Wait for the snap. Don't drop the thing. Results are shown below. Next time, we'll add sunlight and a stepladder. Meaning, a ladder that has remarried.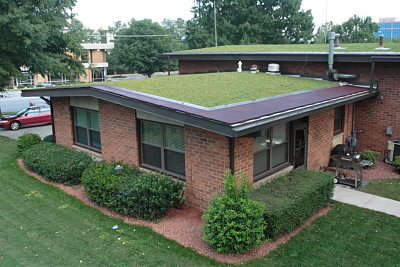 Here's a second shot, with stepladder and a daring sense of balance. Sun's behind clouds.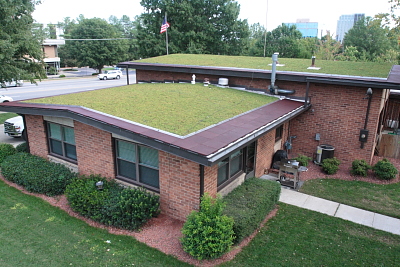 ---
Is that red crushed brick being used as landscape covering? If so, that is another example of an application that has a higher initial cost which is cheaper in the long run as compared to reapplying mulch or pine straw every year. Looks good!
GB - 09/28/09 - 19:57
This may have been discussed in a previous post and perhaps this is a stupid question, but will this grass need to be mowed or otherwised trimmed, or will they just let it grow until it reaches mature height?
Native Charlottean - 10/01/09 - 12:53