11/15/09 221 W, 1 I - + 12 - 18 Next Weekend's Flea Market
Who's got stuff to sell? On Saturday, November 21, the area's first "firematic" flea market opens at Western Wake Fire Rescue in Raleigh, from 10:00 a.m. to 2:00 p.m. Booths are available for individuals or vendors who have large quantities of items to sell or trade. Several general tables will also be available, for folks who have 5 or 10 items that they want to sell. You can just bring your stuff and show up!
What does "firematic" mean? Anything related to the fire service, be they books or models or helmets or old equipment. Have some old nozzles and extinguishers to unload? Want to buy Code 3 or Matchbox models? Maybe you're a dealer of fire and public safety equipment, and want a full-fledged booth. More information is available at www.westernwakefirerescue.com/fleamarket.
Feel free to post your sale list here, to give folks a heads up. Mr. Blogger will be bringing toys and books, for starters. His stash looks something like this. He'll probably add an old Gamewell gong, and some other goodies.
The flea market is being held in conjunction with an anniversary ceremony celebrate 50 years of fire protection by Western Wake, Yrac, Fairgrounds, Cary Rural, and Western Boulevard fire departments. Read more about the events.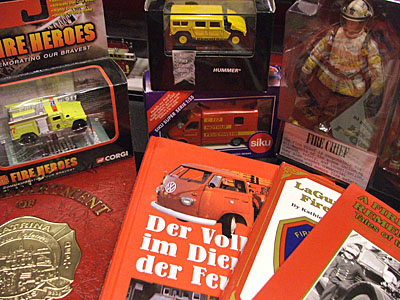 ---
For those that have never sold items at a flea market, such as myself, here are some things to bring, that I found listed on another web site:

o tarp large enough to cover merchandise in a downpour, along with dry towels
o roll of duct tape
o at least a dozen assorted spring loaded metal clips and clothes pins to hang and secure items as needed
o folding chair
o umbrella
o cash box and a starting "bank" of at least $75 in ones and fives, and rolls of coins
o table clothes
o rubber bands
o at least one hundred shopping bags, paper or plastic
o small trash receptacle
o counterfeit bill detector pen
o business cards.
Legeros - 11/15/09 - 14:48
Mike, I will be home for R&R during this time frame… I have my eye on one of those trucks you have in the pictures!!!
Kermit - 11/16/09 - 10:08
Mike, I haven't gotten to a photo yet, but my list is as follows:

o old hand extinguishers
o soda acid extinguisher
o glass fire grenades with fusible link wall holders
o Dash Laser
o Whelen 4 way strobe pack
o FD signage

Still debating on items needing restoration; fd pedal car, gamewell fire pull station with internal components

I also have a new hospital crash cart that I bought to use as a toolbox that could go if there were interest but I really don't want to have to load it! Bought off fed. surplus at Durham VA, includes O2 bottle holder, IV pole and short backboard for CPR. One shelf is out of adjustment.

Anyone with any stuff to sell, please bring it out Saturday. Otherwise come and look, visit… buy!
D.Cates - 11/19/09 - 16:16