12/04/09 213 W, 1 I - + 8 - 14 Second Beltline Fence is Planned
Today's News & Observer has details on a second fence now planned on the Beltline bridge over Crabtree Creek, where a bystander died on Friday night, after falling through the gap between the bridges. He along with others had stopped to assist at a series of car accidents. A second person also fell through the gap, but only suffered minor injuries. The death was similar to one in 2005, when a bystander fell between the four-foot gap after stopped at a early morning crash.
Since the time fo the first fatality, a high metal fence was erected the inner-loop side of the bridge. Transportation officials at the time concluded that the single fence was sufficient, and today's article even traces an e-mail discussion on the matter! The article also and perhaps bizarrely includes information about the most recent victim's criminal history. Not sure the relevance there. Yesterday, the DOT announced that a second fence will be erected, and will be completed by February 1. Read the article.
The below photo was taken atop the bridge on Friday by Legeros, and show the split median and inner-lane fence. Officials closed all lanes of the outer loop as the vehicle and pedestrian accidents were investigated.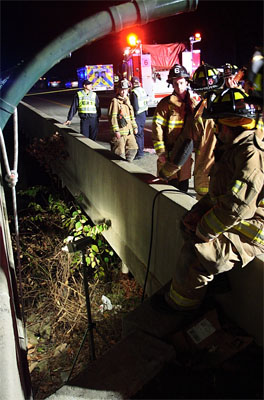 ---
They include the criminal history, because when they (news media) run out of things to say, they can always hit the free criminal history checks they have. These days, whenever someone is arrested, they go straight to "the suspect was already on probation for blah blah.."
rfburns - 12/04/09 - 08:21
You nailed it…when "run out of things to say"...they wouldn't be a news outlet if they didn't dwell on the negative aspect of the story to draw more ratings
BW - 12/04/09 - 08:36
Firefighter sitting on the edge of a 70' bridge, so much for safety…..
Orange helmet - 12/04/09 - 12:37