12/22/09 127 W, 1 I - + 6 - 5 Usability
Everything can be improved. This electronic card was purchased on December 11, during a library visit. Mr. Blogger read the expiration date of 12/13 and thought, okay, it's a two-day card. Inconvenient, but not a problem. He made a couple back-and-forth trips to the machine, adding more money as he made more copies. Didn't want leftover cash expiring in two days.
On Sunday, he went back to the library. He bought another card, because the last one had expired, right? But the new card showed the same date. Okay, 12/13 means the card expires in four years. That's better, but still not the best. Ideally, the thing should read "Expires 12/2013" or even "Expires Dec 2013." Everything can be improved.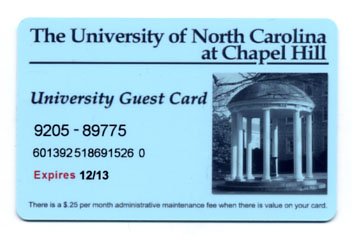 ---
But why would you want it to say "expires December 2009" when it actually expires December 2013?
Let Mikey Try It! - 12/23/09 - 08:29
Correct! Post corrected!
Legeros - 12/23/09 - 08:44
Well, maybe I am just being the devil's advocate or think with the other side of my brain, but I understand the initial expiration. Similar to my credit card which says "Expires 12/11", I didn't expect a new card to arrive on 12/12/09. I guess I just assume that with the shortened format (12/13) that the day had been dropped. I would speculate that the date the card was issued could have lead to easier misunderstanding, as opposed to say, having the card issued on the 20th day of december and then reading: Expires 12/13 which would, to me, be more obvious that it was the year and not the day. Final conclusion after all this rambling…without previous "experience" in card expiration date reading, I could see where it would be confusing. 12/2013 would be a much clearer alternative.
rookie - 12/23/09 - 09:57
I think everyone is missing the bigger picture here Mike: why would you want something affiliated with the Tarholes in the first place? ;)
Of course I say this being the only Clemson fan I know of on this site. Happy Holidays everyone and IPTAY!
Marshall Sherard KE4ZNR (Email) (Web Site) - 12/23/09 - 10:58