01/21/10 256 W, 1 I - + 10 - 14 Tiller For Sale
Raleigh's old tiller is for sale on eBay. That's Ladder 4, better known as the longtime Ladder 1, the 2004 Pierce Arrow XT tractor-drawn aerial ladder that overturned on July 10, 2009. The apparatus was totaled, and a replacement has been ordered. Then what happened to the truck? As this eBay auction demonstrates, the apparatus ended up at a salvage shop in Minnesota. Asking price is $58,000.
Apparatus accidents are one of the less-glamorous aspects of emergency services. Engines, ladders, ambulances, chief cars, etc. They're all involved in accidents from time to time. Most are minor, and often very minor. But big ones happen, and can happen with tragic results to the parties involved. Fatalities. Injuries. Emotional impact. Career impact. Not to mention macro-impact on a department or municipality affected by the financial consequences.
Then there are the vehicles themselves. They're often repaired, and occasionally rebuilt. We have a number of local rigs, past and present, that were rebuilt after more serious accidents. If the truck isn't repaired or rebuilt, it lands in the hands of a salvage company or scrap dealer. Who buys a wrecked tiller? Someone who wants the parts, perhaps? Truck folks, please relate how such rigs are recycled.
Thinking outside the box, could the old tiller serve as an educational aid. Might, say, a firefighter safety foundation buy the thing to help promote apparatus safety? That would be a pricey piece of show and tell, especially with the extensive photo documentation that's available. But farther-fetched things have happened.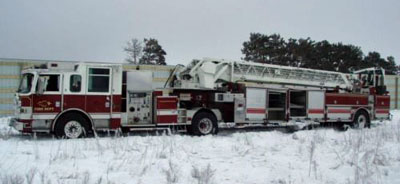 ---
Some of you guys in the body repair business (Duke) would have a better idea than me, but, could you envision someone buying this for the asking price of $58,800? Then, remove the pump, repair the tractor, and put about, heck I don't know, $300k into fixing her up? Would $300k to $400k get this thing into shape? If it did, then $350k to $450k for a Pierce tiller would be easier on the pocket for a small department looking for a ladder. Then again, add a little more and you could buy a brand new ride…
Silver - 01/21/10 - 20:24
I am surprised that the pump and other high dollar items could not have been salvaged from the rig to go into the new one on order. Maybe the changes in engines and pumps in 6 years are keeping that from happening, or even the legal issue of insurance payment verses what can be removed. It is sad to see, however, it is good to know that all involved are back on the job.

Good reminder to slow down!!! We can't help if we don't get there.
Donaldson - 01/21/10 - 21:24
I would love to hear from someone in heavy vehicle repair on this one as well. I'd also be curious to know how difficult it would be to have the ladder re-certified. I can't believe that it would be as straight forward as a standard certification test since it's seen much different stress than normal. I agree with Jeff though, if you can get it and have it rebuilt all for under $300-400k, that's not too bad of a deal for such a high priced quality apparatus.
Mike - 01/21/10 - 23:48
That's really sad. I'm glad the crew is ok and is back to work.
As far as repairing? Wow. That would be iffy at best. I would think with all the damage to the tiller chassis, it would need to be completely replaced. i would bet that the entire drivetrain is just fine and would just need to be overhauled. The aluminum on that rig would likely be worth the purchase price of rthe recycling value, and the wheels and tires, if they're straight, would be worth bucks. The hydraulic pumps and undamaged cylinders would bring good money, and one should be able to recycle/sell the compartment latches/handles. All the wiring could be stripped for scrap and the undamaged emergency lights would be good to put back on eBay.

Over all, I would say that, since the vehicle is made to be upright, being on its side and roof probably didn't bode well for the entire structure. Can't wait to see the new truck, though!
Duda - 01/29/10 - 11:41
does anyone know what happened to this truck? where its at where i could possibly find it. looking for parts
michael (Email) - 10/23/10 - 03:25