01/30/10 244 W, 1 I - + 12 - 5 Wake County EMS - Old Station 2
Here's your trivia for today. Wake County EMS 2 was originally stationed at 401 E. Whitaker Mill Road, in a rear section of the Wake County Human Services Community Services Center. At least, that's what the building's called today. Back then, it was the Wake County Public Health Center, no? And even farther back, it was the Wake County Group Home. For aged and infirm individuals.
The EMS quarters were on the second floor, and accessed through an outside stairwell. As the story goes, paramedics were quick to slip on those stairs on colder and moister days. During those early years, Wake County EMS had five ambulances, EMS 1, EMS 4, EMS 5 at Station 1 at Martin and McDowell streets, EMS 2 at Station 2, subsequently built around the corner on Noble Road, and EMS 3 at Station 3, which was the Six Forks Fire Department building on Six Forks Road.
Second ambulances were added at Station 2 (EMS 6) and then Station 3 (EMS 7). Then fourth and fifth stations were built, and those units adopted the numbers EMS 4 and EMS 5. Then a sixth station opened at the airport, first in an old house and later at a new facility. That unit was numbered EMS 6. That left the downtown units now numbered EMS 1, EMS 7, and EMS 8. Or at least, that's the history that's been told to me. Readers, please correct as needed! Here's a picture of those icy stairs outside old EMS Station 2: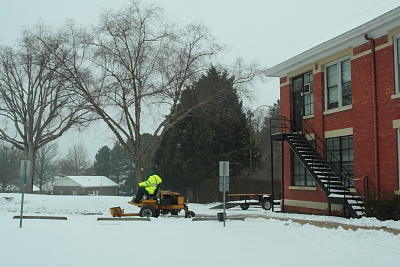 ---
Veteran Wake EMS member David Keith passes along these memories…

Wake WEMS began in June or July of 1976. One of the original shift supervisors was Alan Harris, who left at the end of October of 1976. I was then hired as an EMT. I was the first hired after the original start-up employees. EMS 1 and EMS 4 operated out of Station 1 on McDowell Street. EMS 2 operated out of the old County Home as you stated, and for close to a year. Then the new Station 2 was built over on Noble Road, near the county home. And, yes, I remember several winter nights with ice and snow on the old metal steps. We kept an old tarp over the windshield of EMS 2.

Also EMS 3 was operated out of the old Six Forks fire station on Six Forks Road at the current location. We ran the Dodge Swabs, which were the original units. Only four units were in service at this time. If EMS 1, EMS 2, or EMS 4 were on a call, then EMS 3 went to Station 2 to stand by, since that was a central location.

Fred Loy was my shift supervisor on C shift. All the shift supervisors rode on EMS 1. Jesse Glenn, who was EMS Chief, had a Plymouth station wagon. About a year after after Wake EMS started, the shift supervisors were assigned the station wagon, then later the Chevrolet Suburban.

I left Wake EMS in 1984 and we were still running four units. I am not sure when the additional units were put in service. We had very little back then. We brought furniture from home to put in the stations. It's hard to believe what they have today and what we had 34 years ago.
Legeros - 01/30/10 - 21:08
We are looking for older Rescue and EMS members. A few of us want to have a reunion for people that were involved in the EMS field 1985 and prior. We have a face book group started with 45 people already in the group. You can join the group by going to the Facebook page of Bob Couick
Bob Couick (Email) - 08/25/10 - 11:21