03/20/10 65 W, 1 I - + 4 - 4 Rainwater Harvesting at Station 8
Those shiny shapes behind Station 8 are cisterns for collecting rainwater. Four have been installed, along with an outdoor electric pump discreetly hidden under a plastic rock. The water is non-potable, but perfect for utilitarian tasks, such as washing vehicles or watering lawns. Several fire stations are having harvesting equipment installed,
as we reported earlier
.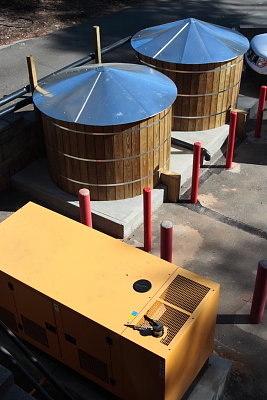 ---
To assist with the budget shortfalls, these structures will be rented out as private bungalows during the dry season…
A.C. Rich - 03/23/10 - 10:56