04/07/10 176 W, 1 I - + 5 - 5 North Carolina Fallen Firefighter Foundation Memorial Service, Saturday, May 1
The names of seven fallen firefighters will be added to the North Carolina Fallen Firefighters Memorial in a ceremony on Saturday, May 1. The memorial service at Nash Square in downtown Raleigh starts at 1:00 p.m. This is the fifth annual ceremony. The event is preceded by a 10:00 a.m. parade of fire apparatus from departments representing the fallen members. See this participant information, and the parade route.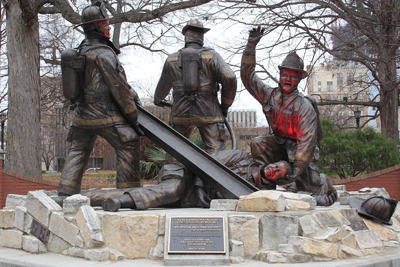 The memorial lists the names of 216 members of the state's fire service, and whose supreme sacrifices date to 1902. This year's honored:
James Melville Jones, North Carolina Forestry Service, 4/17/72
Levi Henry Faulkner, Farmville Fire Department, 5/29/75
Willis Henry Vandiford, Bell Arthur Fire Department, 3/21/78
William Gray Parsons, Millers Creek Fire Department, 2/1/09
Gregory Carroll Cooke, Salem District Fire Department, 3/21/09
Matthew Douglas Tramel, Pembroke Fire Department, 6/5/09
Jimmy Lee Davis Sr., White Oak Fire Department, 12/10/09
Visit the North Carolina Fallen Firefighters Foundation web site for more information.
Or read this related history of mine, from a few years back.
---
The Wake & District Pipe Band (www.ForOurFallen) and Tir na nOg (www.tnnirishpub.com) will be hosting a pre-memorial service toast to honor our fallen comrades on Friday, 30 April 2010 at 9:00 pm (218 South Blount Street in Raleigh).
Joe Brady (Email) (Web Site) - 04/10/10 - 02:29