04/18/10 131 W, 1 I - + 6 - 8 White Roof
Would you believe a fire station with a white roof? That's the new top on Station 16 on Lead Mile Road, and a block from Blog Central. The roof was replaced some weeks ago. Why is the thing white? Presumably, as a cost-saver for summer utility bills, as well as am environmentally friendly move. Don't know if or how many other Raleigh fire stations have been similarly equipped.
This New York Times article
tells more about white roofs. As for the photo below, the two shadows are a power pole (left) and a camera on a tripod (right) being held over the head of Yours Truly. Good thing he was wearing a t-shirt. Would have looked just too weird had he been Hawaiian-clad.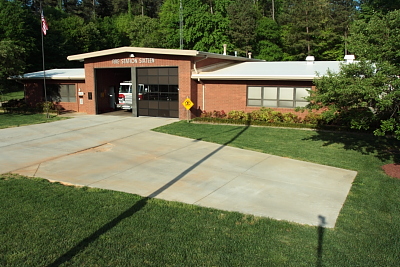 ---
They're using this "white pebble stuff" over tar for the roofing material. ...or at least that's what the contractor did at #8
A.C. Rich - 04/18/10 - 10:50
Hmmmmmm. Up close, this one looks like a thick plastic blanket, some or many inches thick.
Legeros - 04/18/10 - 10:53
Ahhh, nicer roofing huh? Yeah, it's that discrimination thing against the West Raleigh guys again… Ha…, but it's always been better as you swing north; like at #9 where the roof needs mowing!
A.C. Rich - 04/18/10 - 10:58