05/14/10 75 W, 1 I - + 5 - 6 Eleventh Hour Deal Saves Historic Fire Station
The
Charlotte Observer
reports that the old Fire Station 2 has been saved. With heavy equipment ready to start demolition yesterday afternoon, developer Marcel Start held a last-minute news conference and announced that a private "finance package and structure" had been secured to preserve the structure.
Read the entire story
. Credit Laura-Chase McGehee with this excellent
Charlotte Observer
photo.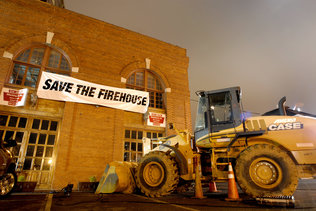 ---
Its about time! I'm so glad they were able to save old number 2, Charlotte is notorious for tearing down their history to make way for multi-million dollar condos and other projects, which I think is a shame.
BFD1151 - 05/14/10 - 22:40