06/15/10 128 W, 1 I - + 14 - 9 Firefighting Lore - Brass Railings
Q: Why were watch stations in fire houses once equipped with brass railings?
A: To protect equipment from being damaged by horses.
Though romanticized in retrospect, fire horses could also be a pain. They required constant grooming, feeding, and exercise. They left things behind that required sanitary disposal. They could get sick, and even be struck down in epidemic. That happened in 1887, and decimated Boston's entire fleet of four-legged members. The more rowdy mares might damage equipment on the station floor, hence the above brass railing. Below is an example watch station at the New York City Fire Museum, complete with railing. Source: A Pictorial History of the Fire Engine, Volume 1 by Matthew Lee, self-published in 1997.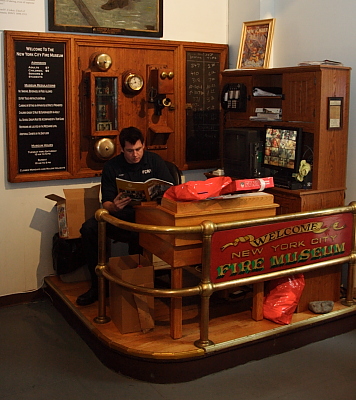 ---