07/04/10 207 W, 1 I - + 1 - 6 Winter Park Fire Station
The old station of the Winter Park Fire Department at 4601 Park Avenue in Wilmington has been converted to the headquarters of the area's Disabled American Veterans. The station is a couple or perhaps many decades old. The department organized in 1951 with 23 volunteers, and incorporated in 1956.
Their station was annexed by the city in the 1980s. Most of their response area was annexed in 2000, which resulted in the county withdrawing station funding, and removing their remaining response area. To allow the department to remain recognized as a fire department, the county designed a former dump site as their primary response area.
The city contracted with Winter Park for protection in the area until 2005. The station closed and the department disbanded on October 31, 20051. Similar annexations impacted the Seagate Fire Department, which ceased operation about the time. FireNews posted rememberences at the time of the closure.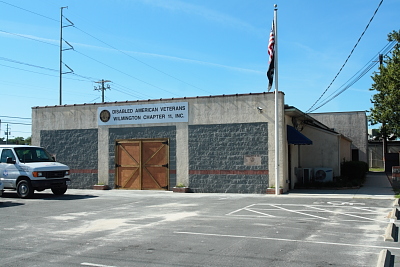 1
Google finds
this Star-News story
from September 2005, about WPFD being contracted by the county to operate a station in the Murrayville area. Did that happen? Either for a short time, or the duration of the two-year contract? Corporate filings on the state's web site show the organization dissolved in 2006, which suggested negative.
---