07/13/10 185 W, 1 I - + 5 - 7 The Problem with the Roundabout
Rode the roundabout the other day. The one on Hillsborough Street, right there at the bell tower. Though I had traveled the thing before-- during its many months of construction-- this was the first trip with completed signage and road markings. Now, I have driven on roundabouts before. I am a seasoned driver. I am a smart guy.* And yet I nearly barreled into the path of an oncoming car. Whiskey Tango Foxtrot?!?
Upon reflection, as well as reading today's News & Observer article about instructional needs of the new interchange, it occurs to me that the problem is this: there's too much information to absorb, upon arriving at the roundabout. There are elaborate road markings, and the signs, and the features of the road itself. Before you realize that you're brain is engaging trying to sort everything out, you're bearing down on a spot requiring a yield. I was surprised, and suspect other drivers may find themselves in similar situations. Or at least until we're used to the thing.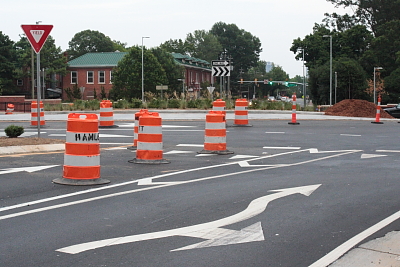 *Insert own sarcastic footnote.
---
The over complicated this roundabout!
RFDJunkie - 07/13/10 - 23:54