07/14/10 145 W, 1 I - + 3 - 5 Cary CERT Team Gets Mobile Comment Command Post
This Cary News article reports that Cary's Community Emergency Response Team (CERT) has received a mobile command post trailer. Acquired with a $7,490 grant from the federal Citizen Corps, the trailer has a communication center as well as storage space for equipment.
Cary's team is one of 138 registered CERT teams in North Carolina. The Cary program "includes four teams of about 250 residents." There's also a teen CERT program at Cary Academy, and 62 trained members at the senior residential community Carolina Preserve.
The Cary Fire Department hosts CERT training twice a year. It covers "basic emergency preparedness skills, medical training, search and rescue and disaster psychology." It also involves disaster simulations, so the trainees can test their knowledge. Read the article, or read about the national CERT program.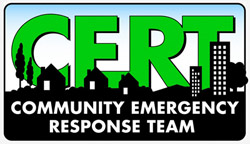 ---
Included in the photos from Southport's firefighter competition were a couple shots of a Shalotte FD step van, labeled "Domestic Preparedness and Readiness Response Unit" and identified as "funded in part by NC Citizen Corps."

http://legeros.com/ralwake/photos/2010-0..

http://legeros.com/ralwake/photos/2010-0..
Legeros - 07/14/10 - 06:40
What is a "comment" post Mike.
ApexBatt Chief - 07/20/10 - 10:04
It's a specialized piece of apparatus used for mobile posting of comments to blogs.
Legeros - 07/20/10 - 12:34