08/17/10 124 W, 1 I - + 4 - 6 Deputy Gets Buzzed
WTVD reported today
on a live bee movie that took place today on Highway 64 at Exist 425. There was quite a case of hives when a truck carrying 60 boxes of honey-makers broke down. Pictures from the scene show a stormin' swarm smothering a Dodge Charger. Turned a black-and-white into a yellow-and-white. In came a beekeeper from State College, who smoked the things into submission. Injuries? None reported, though delayed drivers in the area might have been bugged. No word on what it sounded like, but punsters everywhere suspect it was quite a drone. Good thing it didn't attract any sweet-toothed wildlife. Don't know if we could bear those facts. Readers, feel free to add your own stinging humor. Sweet.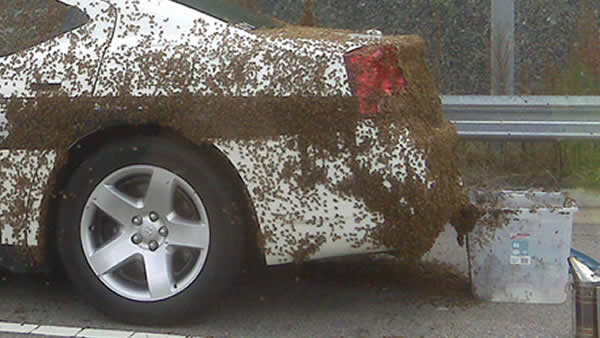 WTVD photo
---
I rode by there before this all evolved. The trailer had probably 40 active hives on it and there was this "cloud" surrounding the trailer. The guy in the truck was just sitting there (probably smarter than most). Guess he knew what would happen if he got out of the cab. No – I didn't stop.
Olson - 08/17/10 - 18:02
Who woulda' known that bees loved pork products so much?...................... Pork; "pigs", get it?!?!?

Silver - 08/17/10 - 18:32
Gong.
Chuck - 08/17/10 - 18:44
I wonder how long it takes Silver to get his next ticket? ;-)
Marshall Sherard KE4ZNR (Email) (Web Site) - 08/17/10 - 22:43
Oh c'mon Chuck, that was funny. Marshall, I'll be the one in the slow lane, takin' it nice and easy!
Silver - 08/17/10 - 22:54
Silver, I don't think it is that they love pork as much as it is that they love the glaze on their fingers and mouths from all those doughnuts.
Mike - 08/18/10 - 06:42
Dang it!!! Good one Mike!
Silver - 08/18/10 - 09:46