08/21/10 117 W, 1 I - + 9 - 5 Kinston Regional Jetport? (Updated)
Question from a reader. Does the airport authority operate the fire department Kinston Regional Jetport? And what sort of apparatus is located there? If memory serves, they once had a Walter crash truck of medium size. Am I remembering that correctly?
Later day update: Google and ye shall find. Looks like the North Carolina Regional Transpark Authority took delivery in 2008 of a E-One P501 crash truck, with a 1500 GPM Hale pump, a 1500 gallon water tank, a 205 gallon foam tank, and a 550-pound dry-chemical system. Nice looking! Notice the flag on the mirror? Betcha the thing had just been unloaded from a flatbed, what do you think?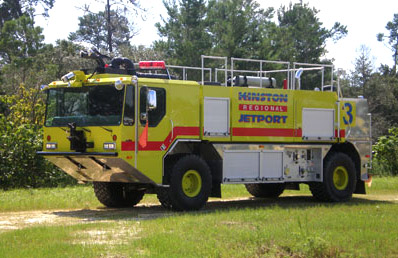 ---
the NC Forestry Service, Region 2 HQ (the region that covers mainly the eastern counties in the state) is also based out at this airport. they do have several planes and helicopters used for fighting wildfires that also fly out at this port. unknown if they have a vehicle of any size to combat aircraft fires though.
Aaron - 08/22/10 - 01:15