10/23/10 230 W, 4 I - + 13 - 6 Scenes From Spruce Pine
Reporting from the road. This Duplex/Grumman telesquirt is out of service outside Parkway Station 2, which is outside Spruce Pine, N.C. The truck previously served Pineville, N.C. Ah, the telesquirt (my word, not the shorter-spelled brand name). Affordable aerial waterway, and descended from the venerable water tower. If memory serves, only a few hundred water towers were built between about 1870 and 1940. Many stayed in service into the 1960s.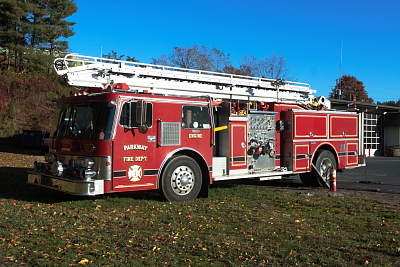 This ambulance parked behind the Spruce Pine town hall-- and former fire station-- is labeled Mitchell Radio Patrol First Responders. Who are they? Older ambulance service? Another entity altogether?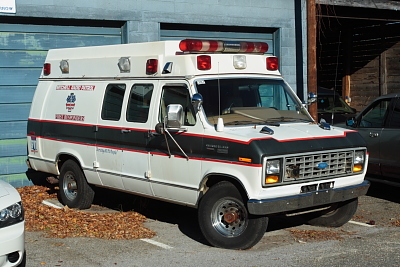 Parked in a field a couple miles outside of Bakersville is this former engine from Burnsville, N.C. The pump is gone and presumably repurposed for agricultural use. Spotted at least one other older engine outside Spruce Pine, on the west side. White American LaFrance Century, it looked like. Guess where I am going this morning?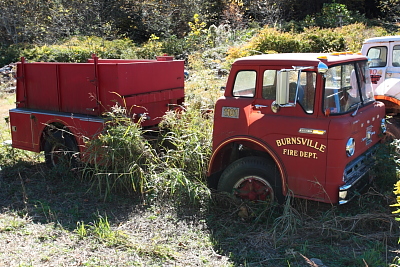 Here's Parkway Station 3, opened in the last year in Little Switzerland. Three bays facing road side, and two on the basement level. That must have been a minor haul on calls from their other stations, at Spruce Pine and Altapass.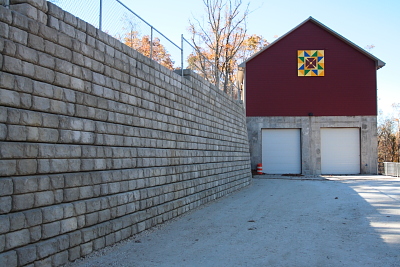 ---
The 'squrt looks smiliar to Holly Sprins' old one. Me? I was a big fan of the Telesqurt. My house in Maryland had one. With a good crew they packed a helluva punch. Of course, no doubt there would be a town council somewhere that thought 'this is just as good as a ladder truck'. I liked it better than the current quint fad, because when you got down to it, it was an enhanced engine. Noting more.
DJ - 10/23/10 - 13:30
The Mitchell County Radio Patrol as I remember it was a group of ham radio operators in the Spruce Pine & Bakersville areas who served as an emergency services resource, mostly for their communications value. My experience with them was in the area of wilderness search & rescue back when I still called the mountains home. I believe that some very basic first aid training was made available to them (CPR, basic splinting, etc.) but do not recall them as providing care at the BLS level. That leads me to believe that the old ambulance in the photo has probably been gutted and loaded with other equipment — maybe ICS/NIMS stuff, comms equipment, hasty search kits, or something of that sort.

New Orleans had a number of the ol' Squrts pre-Katrina, and even some of their newer apparatus utilize newer versions of the idea, as shown in this video.
http://www.youtube.com/watch?v=fLo-IloFI..
attic.rat - 10/24/10 - 08:44
Rat, thanks for the info. Looked inside the Radio Patrol ambulance and it's stocked with a couple vintage-looking jump kits and some traffic cones. Otherwise looked functional, if retro. Didn't see a wheeled stretcher, but I think there was a folding one in there.

Secretary of State records show them formed in 1974 as Mitchell Radio Patrol and Emergency Services, Inc. They then changed to Mitchell Radio Patrol and Rescue Squad, Inc., and again to their present name of Mitchel Radio Patrol, Emergency Services & First Responders, Inc.
Legeros - 10/24/10 - 09:02
The Radio Patrol is no more to my knowledge. They were not much of a first responder service when they were around, more or less wackers that wanted to do something but were fire dept rejects.

The old Burnsville engine was a 1969 Ford C/Ward LaFrance with a 1000gpm pump and 750-gallon tank.
BFD1151 - 11/04/10 - 20:56
I know this is old but I was in the radio patrol for 3 years as a board member I was First Responder trained and I enjoyed my role. I never tried for a fire department because I wanted to just do rescue. The White Ambulance in the pic was our rescue truck sadly we did not have the resources that the Fire Departments had such as grants so we worked with old unwanted equipment. We would respond along with Spruce Pine fire department to any needed medical and rescue calls. The ambulance was rarely used unless we was the only ones able to respond we mainly responded in our personal vehicles. My last year was 2008 and haven't heard about them since then. I moved to TN and joined a rescue squad out here.
Ranubis - 05/13/13 - 23:18