11/06/10 142 W, 1 I - + 6 - 3 History Talk at County Firefighter Supper, Tuesday, Nov. 9
Historian Mike Legeros (moi) presents an abbreviated version of his History of North Carolina Firefighting presentation on Tuesday, November 9. It's part of that evening's Wake County Firefighters Association fall supper and meeting.
The location is Western Wake Fire-Rescue at 4021 District Drive. The time is 6:30 p.m., or at least that's when serving starts. The agenda for the meeting includes electing board officers for 2011. All members are encouraged to attend.
The history talk is planned for 30 minutes. The presentation may include a brightly colored, tropical shirt, depending upon the temperature in the apparatus bay. You can also read ahead and see the slides from the long-version of the history talk. Just keep the heckling and throwing of fruits and vegetables to a minimum on Tuesday. See you then.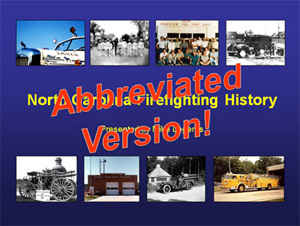 ---