12/11/10 308 W, 3 I - + 11 - 9 UPDATED - Night Training with New Camera
Some weeks ago, one of my two Canon Digital Rebel XT bodies died. Replaced the thing with a Canon 40D, slightly used. Maybe 3,500 clicks on the shutter. Local purchase, after failed eBay attempt. Ask about that experience in private. The new camera has a higher ISO range than the last: 3200 versus 1600. Which means more sensitive to light, which should mean better night photography at fire scenes.
Tested the thing the last night, as companies were conducting training last night in the now-abandoned buildings in Walnut Terrace. The results were good with respect to amount of captured light, and little or no blur of stationary or slow-moving subjects. No flash was used. This was an ambient light exercise.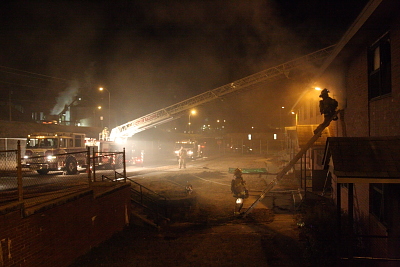 The posted results are decent. The amount noise is tolerable or better. Some of the colors are whacked, however, and maybe that's because no emergency lights were flashing. All that additional red and amber light on the fireground adds some tinting that we're familiar with. See the results for yourself.

Sunday update. Added a second set of pictures, these showing the results right out of the camera. Only adjusted for cropping and some added sharpness. Color, contrast, white balance, etc is what the camera captured. See which ones you like best.
No Adjustments
Here's what the camera saw, or at least captured to the best of the camera body and lens combination. See set #1: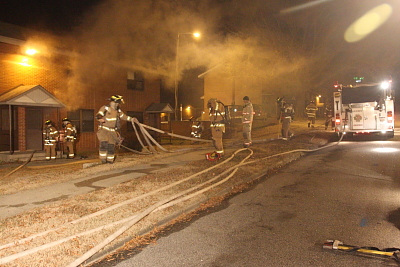 With Adjustments
Why these adjustments? Trying to tone down the yellow cast, which should render the pictures a bit more realistic. But was the scene itself yellow cast, and thus these are actually inaccurate? Welcome to the dilemma of post-processing. See set #2: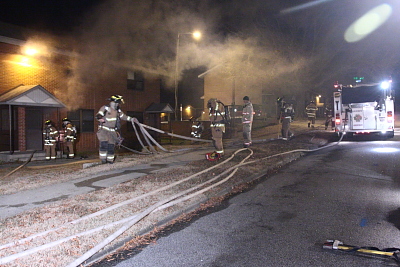 ---
You know, I need to get out more. I was at KTC a while back and, well, there was people there at Walnut Terrace. Stopped back by KTC this past week and a fence was going up and no one was there. The end of an era, if you will. First Halifax Court, the Chavis Heights, and now Walnut Terrace.

Not related to cameras and such, but I remember when such communities were built, some administration or another's answer to, well…

Anyway, you're right, the absence of specific 'mood' lighting (in this case flashing red and amber) does affect the resultant pictures' appearance. Another photographer told me that once a long time ago.
DJ - 12/11/10 - 14:13
This does make more sense when combined with the radio traffic last night. I was really stressed there for a few when both of my Uniden XT Scanners priority jumped over to the FD Emergency Talkgroup and I heard the report of FFs trapped. Made for some interesting monitoring once I knew everyone was gonna be ok and it was training. Reminds me to go back through my Public Safety Emergency Talkgroup list and make sure they are all programmed in. I do hope I never have to hear real traffic on them.
Marshall Sherard KE4ZNR (Email) (Web Site) - 12/11/10 - 20:03
Updated posting. Second set of pictures. Didn't address stylized photos. Even if a yellow filter-looking effect isn't as the eye saw (or remembered) the thing, it can be artistically appealing. Which versions do you like better/worse?
Legeros - 12/12/10 - 08:41