04/02/11 382 W, 1 I - + 0 - 2 Quarterbacking and Other Reasons For Reading This Blog
Another fire. Another round of questions. What's happening when this happens? What's compelling readers to ask questions, make observations, and offer suggestions? We call it "quarterbacking" but not everyone's here for that reason. Base motivations for these comments include these:
Simple curiosity about what happened. Period.
Wanting to learn from the incident and expanding your skills or knowledge.
Showing support for those involved in the incident, or the members of that department.
Discretely or overtly calling attention to something that isn't being talked about.
Evangelizing about something that is or isn't related to the incident.
Calling attention to yourself, or feeling better about yourself.
Playing pile on. Making someone else feel bad.
etc.
Maybe everyone posting comments should preface their statements with either "trying to be helpful" or "trying to be harmful." Would that work? Maybe not. Psychology isn't driving these discussions, nor are feelings a typical point of concern. At least, that's admitted in public. Best question to ask after any blog discussion might be this: what did you learn about yourself?

Finally, a word about perspective. Truth is when everyone agrees. How do you get everyone to agree on what happened at an incident. You can ask someone who was there, but that's really not enough. You can ask everyone who was there, and that gets a lot closer. Then you gather information from people watching from the side, from photos and videotape, from radio reports and telephone calls.
On this blog, we post windows into history. They contain an awful lot of information, sometimes. But it's always incomplete. There's always more to the story. Just think about the words "reported light smoke showing." What did you imagine just then? What did your mind conjure, as a picture of that short sentence. Chances are it's different for different readers.
Now magnify that different in perspective and presumption with every phrase and paragraph written in this blog. Photos add quite a bit, but those, too, are just single moments in time. Add all the words and all the pictures and there's still so much more to any story. Food for thought. Something to think about. Stepping off soapbox.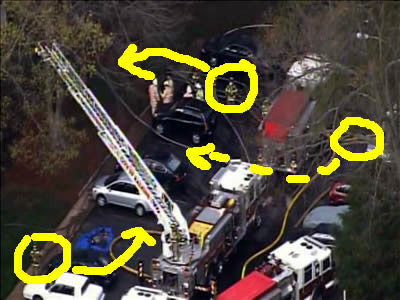 ---
Many thrive on controversy while others appreciate a learning opportunity and/or information sharing. Individual introspection is indeed an outcome. It's all in what one desires to satisfy a personal need!
A.C. Rich - 04/02/11 - 11:15
AAAAAAAmen!
Silver - 04/02/11 - 19:03
We are in the business of making decisions if people live or die, citizens and ourselves. Why would any firefighter not want to learn how to be the absolute best they can be? Education comes from several avenues; ones own experience, articles, books, experience of others, critiques etc. and they all must be untilized. We cannot be the best firefighters based on one eductional tool. Learning form others can be one of the most valuable of them all. Construtive criticism is not bad and should not be taken so by anyone. Critiques can and should have possitive results. Whether the critiques are company level, multi company or written take them positively and apply it on the next call. It is a form of training. Every run no matter how big or small should be discused and if mistakes are pointed out, be receptive to the knowledge that is being passed on. Repeated mistakes are unacceptable. No one is stepping on your toes (or should not be); that is one of the reasons we are issued steel toed boots, it helps easy the pain.
T. Saunders - 04/03/11 - 14:54
Those are good points, T. But, alas, people have difference preferences in how they receive constructive criticism. I think we've seen that in blog discussions and the range of reactions that users have to other user comments.

Some people react the best with blunt and direct criticism, while others respond more favorably to softer and less-direct language. Easing into the conversation.

Some people prefer to hear "what went well" before a discussion of "what didn't go as well." Others are the reverse, and want the bad news first.

Some people are happy to receive criticism from anonymous users. Others want a name with the words.

Some people are willing to critique in public, others prefer in private.

And so it goes.

It shouldn't be a surprise that conflicts arise on the blog, as even base interaction styles are different. Just as people are motivated differently in their reasons for participating, they have different communication preferences.

Yeah, it's complicated.
Legeros - 04/03/11 - 15:03