04/05/11 48 W, 1 I - + 3 - 3 Hot Shot #2 / Entering the Attic
Another shot from Saturday on Blue Ridge Road.
Read about that incident
and see more photos. Same camera and lens as prior posting. ISO 200 this time. Sun was coming and going. Some guy on the ladder.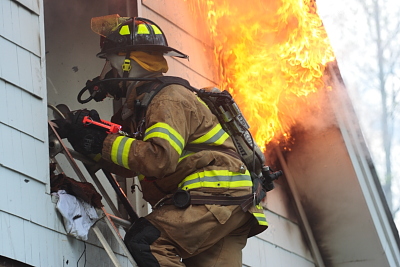 ---
Cinni finally got some fire.
RescueRanger - 04/05/11 - 09:41
"some guy" doesn't even have have his waist belt tightened down. Must have been in a hurry to see a little fire. C'mon people, get your stuff on correctly it would have taken an additional 5 seconds. At least act like you have seen some fire before.
nice - 04/05/11 - 11:40
REALLY nice??? You cant tell how big his belly is in this pic, maybe it is tight.
The Canman - 04/05/11 - 12:32
My god, you act like he doesn't have his regulator hooked up.
MF - 04/05/11 - 17:43
Some times we serve a banquet here. Other times, it's table scraps…
Legeros - 04/05/11 - 18:08
@MikeyL; as if I'm not a big enough punching bag, let's just make it a focal point!?!? Hahahahaha….when can we plan on having the one on one interview? That'll be the icing….

@RR; finally….amazing how much you miss being a vollie when you rely on 10 days a month to catch work.

@nice; it's buckled and adjusted to my comfort, leave it at that.

@thecanman; your Mom doesn't seem to mind, obvious YOU'VE never seen me naked…hahaha (sorry for the Mom crack, I know it's all in good ribbin', but I'm making a conscious attempt to bring back "Mom jokes" as i feel they were a classic and have now been extinct for some time).
Silver - 04/05/11 - 23:19
...Ladder placement shoulda been at the sill. Book says otherwise I know, but headfirst bailout says otherwise.
Jake T. - 04/06/11 - 17:06
you can forget the head first bail out that loose waist strap would get caught on the ladder.
nice - 04/06/11 - 18:03
I disagree.
Jake T. - 04/06/11 - 18:10
@JakeT.; no, the ladder was placed for ingress into a doorway. That's not a window, it was actually a full size metal door . For transferring into and out of the doorway, it's nice to have some ladder to hold onto (sorta like when you're accessing a roof).

@nice; I disagree. If that's the case, you better scrap the radio straps, flashlights and anything else hanging off gear. If you ever bailed out before, you know that virtually anything gets hung.
Silver - 04/06/11 - 18:21
@ nice; when you bail out, you want out fast until you get to the safety of the ladder. Once you are on the ladder, who cares if stuff gets hung up? You are then stopped and ready for a controlled flip followed by descending in a controlled fashion. As you bail out, your weight should be on your arms until your ankles lock the window sill. Then and only then, your whole body comes in contact with the ladder. If you don't have something to slow you down, you bounce, as several videos have shown.

As far as buckling up, at least Silver did. I have seen a lot who do not. If he needs to tighten it, it is a simple pull. All about the comfort level of the man and his proficiency with his gear! I don't tighten mine either, but I am a lot larger around the waist than Silver. Be safe and Buckle Up!!! (SCBA belts and Seat Belts!)
Andy Bounces - 04/06/11 - 22:02
Only problem I see with this picture…WHERE IS YOUR DAMN HOOK Silver?????? I thought I taught you better!!!!! Hahahahahaha!Oh BTW, love the new lid!!!!
Wayne - 04/06/11 - 22:32
@Wayne Don't you worry, it's on there. It's hooked on the ladder on my right side (look just below my right foot, the blue is the chisel end of the hook);http://legeros.com/ralwake/photos/2011-04-02-rfd-blue-ridge-rd/slides/2011-04-02-rfd-blue-ridge-rd-49-mjl.html
Silver - 04/06/11 - 22:56
@Wayne (again); in reference to the new lid…..YUCK! I will say this, not so bad if it was "sans stupid faceshield".
Silver - 04/06/11 - 23:02
Whats wrong with the lid?? Does the faceshield hurt the coolness factor of the person wearing it? You're right, who cares about safety as long as you look cool.
Jones - 04/07/11 - 06:18
Helmets and safety. If the American fire service really wanted the safest possible helmets, they'd have adopted the "jet fighter" style of Europe, http://news.bbc.co.uk/media/images/45806... And maybe add the wrap-around neck protection used in Japan, http://i.ebayimg.com/21/!CDFP%29SgBWk~$%..

But tradition rules, man! If this sounds familiar, 'twas a blog thread back when: http://www.legeros.com/ralwake/photos/we..
Legeros - 04/07/11 - 07:13
The recent Fire Chief magazine had a good comparison between the American and European style helmets. But, I'll be sticking with my Cairns…
LeBeau - 04/07/11 - 07:21
Here's the article, thanks for citing. http://firechief.com/training/apparel/us..
Legeros - 04/07/11 - 07:26
Good quote in there: "While clearing the "cool" hurdle is a large barrier for manufacturers looking to sell European-style helmets in the U.S., they also must meet NFPA 1971. The European standard covering helmets is EN443, which McKenna said is like comparing apples to oranges when lining that standard up against NFPA 1971.

The reason, he said, comes down to how fire is attacked here compared with across the Atlantic. European firefighters don't perform as many interior attacks as their U.S. counterparts. Where the NFPA standard puts a premium on surviving flashover conditions, the European standard puts more focus on getting the job done from the outside, which translates to a lighter-weight helmet."

(And then refuted by a European flashover instructor in the comments.)
Legeros - 04/07/11 - 07:26
@Silver…That's the Silver that I know, I guessed I had missed it in this picture. I am getting older these days. Hit me up some time bro, it's been a while.

@Jones…it has nothing to do with "looking cool" or necessarily safety as there are all sorts of alternatives to the big 4" faceshield. For me it's MORE about comfort. Now I will admit that tradition also comes into play, but that's just a matter of style: stupid turtle shell vs tradition. For me, NOTHING beats the comfort of a broken in Cairns N5A!
Wayne - 04/07/11 - 10:14
@Jones; Before you attack, I suggest you do a little research first. Allow me to educate you, as some on this blog are caught up in the "NFPA compliant" and uniformity world and are now lacking, what appears to be, common sense. Let's talk about eye protection; sorry Andy, he forced my hand….

OSHA makes law; when it comes to eye protection for us, they refer to the "ANSI Z87.1 eye protection standard" because it is more in depth than what OSHA has. So, in a sense, OSHA has adopted this ANSI standard as its' own. ANSI splits eye protection into two groups; "primary" and "secondary". Now, when it comes to "primary" eye protection, the standard states; 1) a face-piece with regulator in place, or 2) GOGGLES which are Z87.1+ certified are the only forms of eye protection to be considered "primary". Just recently (November) the Cairns "Defender" eye system (the kind that stores inside the helmet between the shell) received ANSI's blessing to be considered "primary" eye protection as well. So there you have it, three forms of "primary" eye protection. The "yucky" face-shield that I referred to is considered secondary eye protection and is providing a false sense of "eye protection security". The face-shield receives its' "NFPA compliant" sticker because of the heat it can withstand, and has NOTHING to do with its' level of eye protection it provides to the member wearing it. Ideal primary eye protection would be quick release goggles, which are ANSI Z87.1 AND NFPA compliant, stored off the helmet in the pants pocket.

Me personally, I'm not in this job for a "cool factor". I'm cool no matter what. When I wore my leather, I removed the "Bourkes" because they weren't good for anything except a look, just like the face-shield. I kept a pair of goggles in my pants pocket for extrications and overhaul, which truly surrounds and protects the eyes. Wayne and I go way back, and he knows I've been wearing a leather since way back (which is why he gave me the little jab). I feel the leather has the weight distributed across the whole helmet and the 1010 doesn't. It seems the 1010 wants to ride down to the bridge of my nose, which is why I feel like it's weight isn't distributed that well, BUT IT AIN'T ALL THAT BAD. I just wish we had the option of using the "quick install" goggles; install the little tabs on either side and keep the goggles in your pocket, out of the soot, heat and crap that a faceshield gets covered with. Then you're expected to pull it down and look though it!?
For all you NFPA folks, they are now leaning towards making goggles MANDATORY on all helmets, versus option, for this reason. They have already stepped up to the plate in the last revision regarding PPE, to say that the goggles don't have to be stored on the helmet because they get dirty being in the elements, unless they're in a protective sleeve. WOW!! Imagine that, a little common sense coming out from the NFPA folks. Good job!!

It all comes back to the PPE issue. Unfortunately, some people weren't doing the right thing when we had the option of using some of our own stuff (at RFD). This ruined it for everyone. And, actually some people WERE doing the right thing. I don't fault the Chief, he had to do what he had to do. We are our own worst enemies. My hope is that the PPE issue can be addressed at a later time and possibly have a manageable program, which would allow us to purchase certain things on our own with guidelines in place. Maybe even list the "options" if you chose to purchase something to limit the variety. Also, educate folks as to why some things are allowed, while others aren't. It seems once you educate members as to the "why's" and "how's", they are put at ease and have a full understanding of the reasoning.
Silver - 04/07/11 - 11:07
Let me weigh in on the European style helmet if I may. I had the chance to wear one (a Pacific New Zealand) at work for six months while evaluating them for possible purchase in 1998. I was sent to extra live burns and training sessions to use the helmet and put it through the paces. It was similar to the Pacific New Zealand F7AT. Link is http://www.pacifichelmets.com/index.php?..

The helmet fit great and was very comfortable to wear. The side protection was awesome. Overall the helmet was great, but there was one major issue. We determined it to be a safety issue and decided not to purchase the helmets for this one reason. You can not hear with a SCBA while breathing air. To those reading this and saying BS, try this right quick. Cup your hands over your ears, and you get that sea shell effect. While cupping your hands over your ears, breathe hard and deep, like you are jacking hose to the attic of a large apartment fire. Now, imagine your SCBA sounds amplified in that tunnel effect. (It will be about 6 times more than you are hearing now).

I promise you will not hear your company officer calling out from 5 feet away telling you that you are about to have a ceiling fall on you. It was very hard to hear even when he was talking into my helmet, literally. So yes they look great, provide great protection to the head and neck, are very well balanced, and have great eye protection built in that keeps them up out of the way, but you can't hear a dang thing in them. I will keep my Cairns 1044 thank you very much.
Donaldson - 04/07/11 - 12:17
Matt, that skunion of yours fit in it??? Hahaha, just busting bro. Hope all is well….
Silver - 04/07/11 - 12:23
I knew I would get the love sooner or later. Jeff we need to catch up sometime brother, it has been a long time.
Donaldson - 04/07/11 - 17:25
I'm with Silver. You can't beat the leather. I burned for 5 hours wearing my leather yesterday and I just got back from a fire at my part- time job wearing a bullard. There is no comparison. Mine is a n6a which is what we have to wear at my full- time department. For all you Raleigh guys the fire I went to was a captain at Raleigh. I don't know how to spell his name. He was an exceptionally nice man. Keep him and his family in your prayers. Again I don't know how to spell his name.
911 - 04/07/11 - 18:46
@911 Can you attempt his name so we can show him some love?

As for lids, mine is an N6A as well, pre-MSA merger. Best helmet I ever wore…
Silver - 04/07/11 - 19:06
Captain Gweedy maybe. He had just left home and passed his wife. She pulled in the drive way and saw the smake coming from div b attic. The neighbor was cutting grass and had called 911. We arrived just behind the first due and pulled another line and went to work pulling cieling and knee walls to extinguish the fire. New York hooks may I add is what we used. We saved his house however the fire was vented through the roof on arrival. We were able to save a fish pictures and computers that was in the room that had the fire. Again he was very thankful and one of the nicest and most appreciative men I have ever met.
911 - 04/07/11 - 19:17
@911 This is very sad to hear. Thank you for informing us. The appropriate people from our agency have been contacted to ensure all assistance is given to our Brother in need.

Group, say a prayer for our Brother Ray (Guidi, Engine 20 "C") and his family as they deal with this terrible event in their lives.
Silver - 04/07/11 - 23:05