04/17/11 175 W, 1 I - + 1 - 0 Searched - Engine 27 - 9:15
As seen on a door of a heavily damaged house in the Cardinal Grove subdivision, one of several spots in the Capitol City struck by a tornado or tornadoes yesterday afternoon. Mr. Blogger spent the morning and early afternoon both visiting damage sites, and accompanying Task Force 8 members doing secondary searches in the Maywood Avenue area.
The command post for USAR operations was a classroom trailer at the Keeter Training Center. Teams were also dispatched to Stony Brook Mobile Park and later to areas including King Charles Road and subdivisions off Forestville Road. One of the Polaris ATVs is reportedly being kept overnight at Station 7, to assist with responses into the areas still impassible for fire apparatus.
The Glascock Street fire station was also ground-zero for a battalion of utility crews, working to restore power to that area. See some of those crews in day-after pictures by Mike Legeros. And apologies for slow site behavior. Don't know the reason. Maybe user visits have skyrocketed!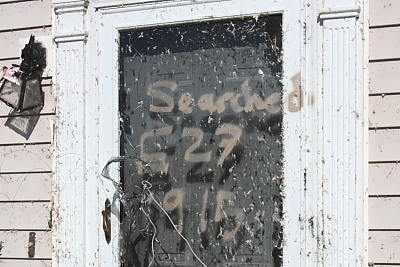 ---
My sister's house is right behind St. 7 on Sheffield Rd. After winging through her 'hood trying to get to her house Sunday, I can't believe the devastation. I thought we got it badly in Holly Springs. Her 'hood and the places in your pics show differently for sure. Great work by all our emergency responders and TCs for keeping calm and doing it right in the face of such adversity. All the radio traffic I heard was very professional.
Duda (Email) - 04/20/11 - 14:34