04/19/11 63 W, 2 I - + 3 - 5 Raleigh Police Department Support Vehicle
Seen at Stony Brook Mobile Home Park this weekend. Built by Hackney on a Chevrolet chassis. Recall that the police department twice utilized former fire department rescue trucks as such. First was a 1975 Chevrolet/Murphy ambulance. Later was a 1991 Chevrolet/Frontline rescue. Remember those rigs?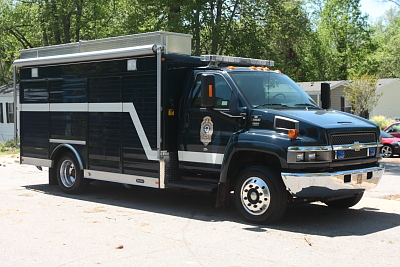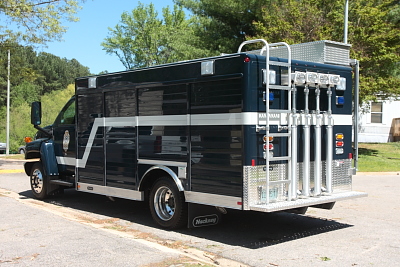 ---
Mike, here is the link to Hackney for specs and further information. Interesting point that their photo shows lettering on the side. Wonder if they took it off, was it photoshopped on their site or is this a new one that has yet to be lettered. Check it out… http://www.hackneyev.com/command/deliver..
BW - 04/20/11 - 21:20
At one time, back under the previous Admin, RPD had formed an "Emergency Service Unit" similar to that of NYPD. They began training until a member was injured at a training event. I wonder if this was a capital expense budgeted from back then?
Silver - 04/20/11 - 21:48
If memory serves me correct SEU never intended to be like NYPD they were NOT going to handle extrication! But then again before you reply my dad was a major under that previous admin!!!!!!!!!!!!!!!!!!!!!!!!!!!!!!!!!
Jason Lane - 04/21/11 - 00:12
J, this was separate from SEU. Perlov worked to set this up, and my best friend who worked for RPD at the time helped. They were looking at extrication equipment (Holmatro), but not sure if they ever bought any. I know this because I busted his chops about inner-operability with RFD's stuff (plus busting one of our own, the Brother who shares his last name with a sneaker brand, and how RPD would cancel him on pin-jobs).

Anyway, a rope training accident ended/suspended this groups future. I was wondering if this vehicle was something in a capital plan from back then and it came up to be purchased now. Rather than turn in the money, get it then find a use for it…(purely speculation here).
Silver - 04/21/11 - 00:47
Maybe one of the few RPD lurkers can help us out?
Silver - 04/21/11 - 00:48
Thanks for finding the specs, BW!
Legeros - 04/21/11 - 06:28
No problem Mike!
BW - 04/21/11 - 07:53
I believe you're talking about our Mobile Field Force. It still exists, though I haven't heard of them having any training lately (not that I would have been in the loop on that, but still). I just hadn't thought about them lately. Maybe they have gone inactive, I'm not sure. Their main purpose was to be a specialized response to crowds, riots, and disturbances of that sort. I also never heard any talk of them being like NYPD's ESU. I think we're plenty happy to leave the extrications to RFD. Heck, we don't even have defibrillators in any of our cars, so I really don't think assisting in rescue operations is on our radar.
rfburns - 04/22/11 - 23:32
@Silver: Now that I think about it more, I think the "extrication" equipment was probably equipment intended to remove protesters that chain themselves to objects and each other, and intentionally put themselves into precarious situations. An extrication of a different type.
rfburns - 04/24/11 - 11:40
@rf; Was just talking to one of my SEU buds, said they've had this vehicle for about four years or so, and it was bought by previous administration(?) You are correct on the riot and disturbances type of response. That was the original intent of the team.

I agree with you on the extrications, leaving them up to us. Have you ever seen the egos that get thrown around "up there" when you have PD and FD racing to an extrication, to be the one to get the tools in service first?
Unreal.
Silver - 04/25/11 - 06:36
Looking at the properties of the spec sheet file, it was created in 2009. Wow, they have had that truck for a couple years!
Legeros - 04/25/11 - 06:45