05/07/11 132 W, 1 I - + 3 - 6 Cover Photo / EMS World / The Future of EMS
From time to time, a photo of mine proves good enough for a magazine cover. The May 2011 issue of EMS Worldi is a good example. The cover story is by Wake County EMS Chief Skip Kirkwood. The article topic is the future of EMS, in a context summarized by Kirkwood's question "do we want EMS to be reactive or proactive?" Read the online version.
The article includes pictures of a Wake County APP in action. Obviously the shots are staged, since patient privacy would make such field photos tricky or perhaps impossible. That the pictured "patients" resemble other Wake County paramedics is perhaps a figment of your imagination. Photo credits Mike Legeros, duh.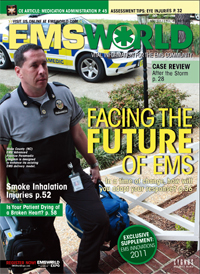 ---