05/08/11 223 W, 1 I - + 6 - 4 New Water Supply Procedures for Raleigh Fire Department
Listen closely to structure fires in Raleigh, and you'll hear some new radio traffic with regard to water supply. Beginning May 1, first-arriving engine companies now catch their own supply lines. This gives the first arriving engine an established water supply before their personnel enter the burning structure.
Also new are the big honkin' hydrant assist valves you've probably seen mounted on tailboards. They weigh 37 pounds and have four openings for five-inch hose. Here's how it works: the valve connects to the hydrant, and the supply line connects to the valve. The second-arriving engine then parks at the hydrant, and also connects to the valve.
This allows the second engine to easily boost pressure on the supply line, and increase efficiency of the water coming to the first engine. There are other beneifts to the new procedure. For example, it puts one less engine in front of the fire building. The first-arriving engine also has the option of "laying in dry" instead of "laying in wet."
Read more about the new procedure in the Spring Issue of the Raleigh Fire Department Newsletter. Or see photos of training on the new procedures from a few months ago. See those shots, from morning training and afternoon training.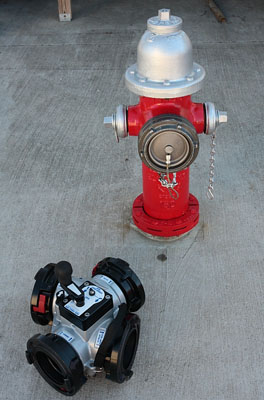 ---
WWFR had training with RFD E8, E14, and R3 on this piece. Good training, and it looks like a good tool to boost water supply in the major working fires that seem to be popping up frequently. From what I could tell, and from talking to the officers, it seems like the way they'll be deploying this was well thought out and will benefit us and those we serve. It's not as cumbersome as it appears, and RFD is working on a little better labeling.
Duda (Email) - 05/09/11 - 09:44
Little Philly
10-4 - 05/10/11 - 17:41
Hey Duda, for us that don't know explain the way they deploy this unit.
911 - 05/10/11 - 20:58
Little Philly? Perhaps. But the Philadelphia FD knows a thing or two about fighting big fires. I think it would be ignorant not to learn from departments like that. It's a needed change not only for Raleigh, but for the entire county to consider where hydrants are located. This is a great example of how change can be a good thing.
Phillip - 05/11/11 - 06:41
911- While i'm not Duda, maybe I can explain how we are using the valve.
The hydrant assist valve ( oficially called the "Oasis" valve and made by TFT) is attached to the 5" and is mounted on the tailboard.
If we are fully staffed and have a good idea we are going to have a working fire (IE smoke column or multiple calls) prior to our arrival we are supposed to lay our own line in and cherge it ourselves (laying in wet).
If we are short staffed we can stop, wrap the hydrant, and lay in dry. The second due engine will stop at the hydrant and finish the connection.
If there is no visible fire or smoke, we can proceed in without laying a line and if we need to upgrade to a working fire the second due will lay in wet, or reverse lay.

Once the 5" is charged, another engine (usually the second due) will attach a 5" from the discharge side of the valve to their 5" intake. Another 5" is attached from the 5" discharge of the engine to the intake side of the valve. Then there is a crank handle on the hydrant assist valve that is opened to charge the 5" going to the "boost" engine. Once the boost engine has water they can boost pressure to the pumping engine.
Clear as mud?
firedriver - 05/11/11 - 17:20
It sure is. At my department we lay in using the first due, or should I say try to. Considering on smoke column or multiple calls or the Battalion arriving first. We have three stations but they are so far away from each other and traffic is so bad you almost can't depend on them to get your water supply in a timely fashion. We do run with 1000 and 750 gallons on our engines so you have a little more time than you guys in Raleigh. Sounds like a nice peice of equipment. I was talking to a RFD luitenant the other day who refered to the oasis valve as being the "water maker". I thought that was funny.
911 - 05/11/11 - 21:27
Digging up an old thread here…....We're looking at hydrant assist valves at the volunteers. Is there any specific reason why the TFT version was chosen over other brands like Humat or Akron? We have a poor water system in some parts and no consistent response times of if/when the 2nd due will show up. Thought is the first due can have a continuous water supply, and when the 2nd due shows up they can boost if needed and all they have to do is hook up to the valve. This way we don't have to shut down the hydrant to cut a pumper in. I too prefer the pumper over the valve, but with no consistent response times in the volunteer fd, I feel much better having the first due catch their own hydrant.

This is an assumption on my part having never used one and trying to learn more about the possibilities/advantages of the valve, but could this valve speed up the amount of time it takes to supply water in a reverse lay? Reverse out, connect the valve/supply line to the hydrant, turn it on and THEN make the connections to boost pressure so there is at least water on the way while the boost connections are made? We don't have these valves at work and we seem to waste a lot of time at fires when we reverse out waiting on the pump operator to make all of his/her connections before water is sent. The 2nd due most all the time is the unit laying a line, and in the outlying areas the 1st due may be close to running out of water before the 2nd due even begins to reverse out, and then having to wait on all the connections to be made before we get water.
NotSo - 05/02/12 - 14:51