05/16/11 156 W, 1 I - + 2 - 6 FireNews Feature About April 16 Tornado Incident Commanders
FireNews Editor-in-Chief Jeff Harkey has been interviewing incident commanders about the events of April 16, when a series of tornadoes struck central and eastern North Carolina. The feature is titled At the Command Post. The latest edition interviews Wake County EMS Chief for Operations Jon Olson. He was the initial incident commander at Stonybrook Mobile Home Park in Raleigh. The mobile home park was one of the major damage sites in the Capitol City, and the only location with fatalities.
Read the feature, which includes photos from Mike Legeros and a couple video clips of the storm passing through Raleigh. Plus there's a look back at the 1988 tornado, with ol' Charlie Gaddy in a clip from WRAL. And Yours Truly was wandering around that particular command post that morning, agog at the mass of responders and emergency vehicles at Townridge Shopping Center.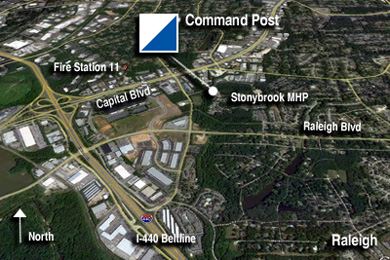 ---