06/08/11 534 W, 1 I - + 5 - 1 John Peckham's American LaFrance Database
The database of American LaFrance apparatus compiled by the late great John Peckham is available on the SPAAMFAA web site. Click the Resources link to get started. There are presently 17,800+ records of what looks like motorized apparatus only, with shipping dates from 1910 to 1959. Plus a couple from 1960.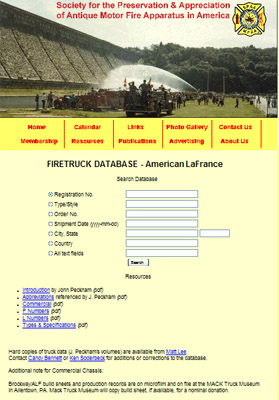 Don't know much about Mr. Peckham. He was an author and apparatus buff, and his name has been long-associated with American LaFrance research. In his introduction to the data, he cites his diverse sources and those that helped him. Talk about a labor of love, both from Peckham and those who have augmented, assisted with, and continued his research.
The database is still being maintained, and the site welcomes additions or corrections to the database. How many other apparatus databases are out there, on the Internet? Next question, how many LaFrances were recorded as serving in North Carolina? Below is a simple count based on city names, with such local data as Cary (1), Chapel Hill (3), Durham (4), Raleigh (17), Wake Forest (1), Zebulon (1):
Aberdeen - 2
Ahoskie - 1
Albemarle - 1
Albermarle - 2
Andrews - 2
Asheboro - 2
Asheville - 9
Ashville - 1
Ayden - 2
Azalea - 1
Beaufort - 1
Belhaven - 1
Belmont - 3
Bessemer City - 1
Biltmore Forest - 1
Black Mountain - 1
Blowing Rock - 2
Boone - 1
Brevard - 4
Bryson City - 2
Burgaw - 1
Burlington - 6
Burnsville - 1
Butner - 1
Canton - 2
Carolinabeach - 1
Carthage - 3
Cary - 1
Chadbourne - 1
Chadburn - 1
Champaign - 1
Chapel Hill - 3
Charlotte - 21
Cherryville - 2
China Grove - 2
Clinton - 2
Concord - 2
Conover - 1
Dallas - 1
Dunn - 2
Durham - 4
East Rochester - 1
Edenton - 2
Elizabeth City - 6
Elkin - 1
Enka - 2
Falson - 1
Farmville - 2
Fayetteville - 6
Franklin - 1
Franklinton - 2
Ft.Bragg - 1
Gastonia - 4
Goldsboro - 6
Granite Falls - 1
Greensboro - 16
Greenville - 1
Hamlet - 1
Hawthorne - 1
Henderson - 5
Hendersonville - 3
Hertford - 1
Hickory - 9
High Point - 10
Holdredge - 1
Huntersville - 1
Jacksonville - 3
Kernersville - 2
Kings Mountain - 2
Kinston - 4
Landis - 1
Laurinburg - 2
Leaksville - 3
Lenoir - 4
Lexington - 5
Lillington - 1
Lincolnton - 3
Littleton - 2
Louisberg - 1
Louisburg - 2
Lumberton - 5
Madison - 2
Maiden - 1
Marion - 1
Marshall - 1
Marshville - 1
Maxton - 1
Mccoll - 1
Mebane - 2
Monroe - 2
Mooresville - 1
Morehead City - 3
Morganton - 2
Morgantown - 1
Mount Holly - 1
Mount Olive - 3
Mountairy - 3
Murfreesboro - 1
Murphy - 2
Nashville - 1
Newbern - 4
Newton - 2
Norlina - 1
North Carolina (State) - 1
North Wilkesboro - 1
North Wilksboro - 1
Oxford - 3
Pinehurst - 1
Plymouth - 1
Raeford - 1
Raleigh - 15
Raliegh - 2
Red Springs - 2
Reidsville - 4
Roanoke Rapids - 2
Robbins - 1
Robersonville - 1
Rockingham - 3
Rocky Mount - 8
Rowland - 1
Roxboro - 2
Rutherfordton - 1
S.F. Hayward Nyc - 1
Salisbury - 7
Sanford - 3
Shaw Hill - 1
Shelby - 5
Snow Hill - 1
Southern Pines - 3
Spindale - 1
Spray - 1
Spruce Pine - 2
Statesville - 3
Stateville - 1
Sylva - 1
Tabor City - 1
Tarboro - 4
Taylorsville - 1
Thomasville - 1
Town Of Morgantown - 1
Troy - 1
Tryon - 1
USA Ft. Bragg - 2
Valdese - 2
Wadesboro - 3
Wake Forest - 1
Wallace - 1
Washington - 5
Waynesville - 2
Weldon - 2
Whiteville - 3
Williamston - 1
Williamstown - 1
Wilmington - 9
Wilson - 8
Winston Salem - 6
Winston-Salem - 4
Zebulon - 1
Total- 403
---