06/13/11 150 W, 1 I - + 5 - 2 Raleigh Fire Department Museum Opens June 14
Here's a press release from the city of Raleigh, further announcing the grand opening of the Raleigh Fire Department Museum on Tuesday, June 14. The event starts at 10:00 a.m. The public is invited to attend, along with active and retired fire department personnel. The museum is located at the Keeter Training Center at 105 Keeter Center Drive.
The museum houses a collection of artifacts and images representing more than 150 years of firefighting in the Capital City. Items on display range from the 1870 alarm bell originally housed in Metropolitan Hall, to a collection of vintage nozzles and hose appliances, to a photo history of Raleigh's fire and rescue apparatus.
Yours Truly will be attending and there to help talk about both the history of the department and the mission of the Raleigh Fire Department Historical Society. See you there!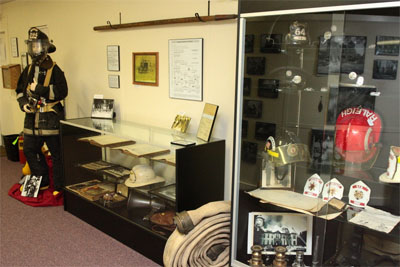 ---