07/24/11 229 W, 1 I - + 3 - 3 Morning in Rockville
Good morning Raleigh. Saw this station while making the vacation rounds today. The engine house says Rockville Volunteer Fire Department. The aerial tower says Montgomery County, MD. What's going on here? Allow some speculation. County-wide fire department in effect, most likely. At some point in the past, Rockville had their own fire department. Maybe still does on paper, or in part.
The county also has a fire department, or perhaps just a fire department infrastructure. Maybe they're paying for the trucks and the staffing, alone. Maybe they're funding and running the whole enchilada. Noticed three-digit numbers on the vehicles, suggesting county-wide numbering. I realize that Google would answer these questions pretty near immediately, but speculation is kinda fun. Plus is engages the reader, and results in conversation.
In Anne Arundel County, outside Baltimore, some of those trucks bear the name of the community they protect, like Brooklyn. That's also the name-- if my memory of the area's fire service is correct-- of the former fire department that served that area. Maybe or maybe certainly we'll see that in our parts. Where a Wake County Fire Department will have trucks and people stationed in unincorporated areas-- and maybe even some municipalities-- and the trucks will also bear the community/former department's name. Bay Leaf. Stony Hill. Fairview. etc.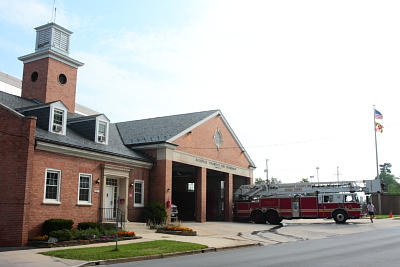 ---
Well I can answer a bunch of those questions as my Dad worked at that station for his last 14 years in the fire service before retiring from Mont Co Fire Rescue. That is station 23 (known as the boulder) on Rollins Ave right across the street from putt putt and right off of Rockville Pike. I have some very fond memories in that firehouse and have even been fortunate enough to fight fire and run calls both on the tower and engine there.

MoCo has a county wide fire dept. Roughly 20 years ago Mont Co was just like Wake Co in that all of these individual VFD's were providing fire protection and many already had paid staff. The county took in all of the employees making them county employees. The individual depts still exist and in many cases still own the firehouses. The trucks that are now in service are county owned and the vast majority are staffed with 3-4 county ff's. Some stations still have vollys that run duty crews or in the case of stations 14,9 and a one other they can respond from home to get out a 2nd piece. This particular station does not have any vollys although station 3 (Rockville's HQ station) still has vollys and some are live in.

The county there runs the entire show. There are county wide SOG's and all of the volunteer leadership must abide by those. If they choose not to then you run into a situation that happened earlier this year at station 15 Burtonsville (if my memory is correct) where the VFD leadership wasn't abiding by the county fire's rules and policies so the Chief came in and removed the leadership of Burtonsville and put more paid staffing there.

Mont Co is part of partnership formed with DCFD, PG Co and a at least one other county. They use closest unit response with only staffed apparatus shown as in service. So in the Silver Spring area or Hillendale area it is not uncommon to get a ladder company, engine or rescue squad from PGFD or DCFD on the run card. Because of this and NIMS all these depts have 3 digit apparatus numbers and if they are responding with outside counties they have a separate number. It can be alittle confusing unless you are used to seeing it or hearing it. So in the picture above you have shown Tower 23 and the engine is number 231 but if the engine goes with another county it becomes engine 723 and PG co's apparatus start with an 8 and DC with a 6 I believe. The reason for the engine being number 231 instead of engine 23 is that at stations like station 3 they have multiple engines. So if the volly's show up then they can mark a 2nd engine in service. So with station 3 it is engine 31, if a 2nd one gets put into service then it is numbered engine 32.

The union here is pretty strong, so although Maryland is a right to work state like NC their municipalities recognize the unions. All employees there are represented by the union. Meaning that when you get hired, you don't have to join the union but you do have to sign paperwork stating that you will allow the union to represent you in all contract negioations. The employees there work on a contract with the county. The county runs the fire and ems. This particular station in the picture has a 4 man engine, 4 man tower, 2 man bls ambulance and a 2 man als ambulance. So if they are fully staffed then it makes for a crowded supper table. Mont Co also runs als engines or als trucks. On my Dad's shift the tower had a paramedic on it. All employees are crossed trained by the way. So if the bls bus went out on a call and it turned into an als call then the tower would respond with the paramedic. If it came out as an als call then the als bus would respond along with the engine for manpower like we do here in Wake Co. This seems to work very well for their system. The only issue they have with ems is that patient's there don't pay to be transported. The county tried to establish a transport fee this past election but the volunteers politiced hard against it and the voters voted it down.

The apparatus still have the name of the volly house that they respond out of on them. So on that tower it will say Rockville VFD but the patch on the capt's door is the county fire rescue patch. You also probably find a union sticker on one of the windows of the truck if I had to place my bet. I think that answers most of the questions without the assistance of google or the website for Rockville VFD, http://www.rvfd.com
Mike - 07/24/11 - 12:12
Montgomery county is part of a Cog agreement covering the metro DC area numbers for apparatus are designated using a 3 digit system as follows: 0- DC,1- Alexandria, 2- Arlington, 3- MWAA, 4-Fairfax, 5- prince William, 6- loudon, 7- Montgomery, and 8- PG. The apparatus with the volunteer name on it was likely purchased by the volunteer company.
corrections - 07/24/11 - 17:41
I just passed through that town yestreday really liked it, very nice little town.
CMAC - 07/25/11 - 23:45