07/29/11 145 W, 1 I - + 5 - 5 Latched Latch | Expo Photos
Photos have been posted of last week's Firehouse Expo at the Baltimore Convention Center. There are a few dozen shots from around the exhibit floor. Plus some pictures of the fire bloggers booth (Geezer, Statter, etc.), a meet-up on the Inner Harbor one night, a social media panel workshop, and participants prior to the 9/11 memorial stair climb. The photos have been posted to Flickr, versus Legeros.com. Don't be alarmed.
Among the apparatus on display were two Ferrara rigs from New York City. Both were equipped with these unique double latches. As the story was told to me, the second latch will help keep a rig in service, since a broken compartment latch requires that a rig is immediately removed from service. Perhaps more in the know can further or better explain. Pretty interesting.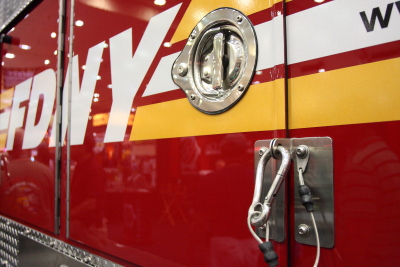 ---
When I talked to one of the Ferrara reps at the show, he told me it was like a safety feature. Since FDNY is tough with their driving as far as pushing cars, running up on side walks and hitting pot holes it will keep the doors from coming open as they have in the past and keep the tools in the compartments since FDNY does not mount any of their tools
TJ Howard - 07/29/11 - 08:07
Thanks TJ. That was my original thought.
Legeros - 07/29/11 - 08:08