08/02/11 170 W, 1 I - + 5 - 3 Freeway Blocking Unit
Who hasn't wondered about dedicated blocking vehicles for roadway emergency scenes? We've pondered that question here-- though I cannot find the specific postings or threads to cite--asking about the feasibility of specialized trucks for the sole purpose of absorbing impacts from colliding vehicles. Heck, that's how highway construction sites operate.
As Firefighter Close Calls reported today, Grand Rapids, MI, has done that very thing. Called Utility 2, it's a surplus city dump truck turned safety vehicle. New paint, new lights, new reflectors. Plus trailer-drawn shock-absorbing apparatus (called a crash attenuator). The conversion is the response to a trio of accidents that cost over $150,000 in apparatus repairs, while the bigger rigs were blocking traffic on a downtown freeway. (That's U.S. 131 and a segment called the S-curve, for a pair of sharp turns. Don't know if the new truck will respond city-wide, or just to that roadway segment.)
Read the Firefighter Close Calls story, or watch this WOOD-TV video segment.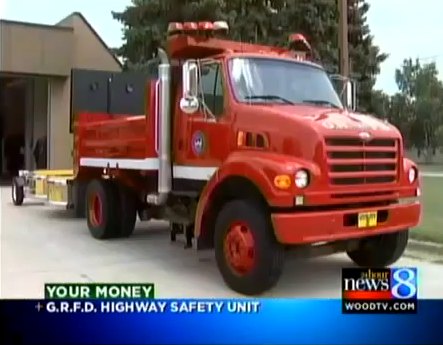 ---